By way of the FCC, we learn Philips plans to soon expand their Sonicare line with yet another Bluetooth-enabled toothbrush. The technology had originally been released in a kids brush, as little ones presumably need more coaching as to when and where the cleaning gets done. As it turns out, Philips joins competitor Oral B in determining we adults can also benefit from a smartphone-linked brush:
Follow the Sonicare app's brushing guidance combined with the BrushPacer and begin brushing. The Philips Sonicare app helps to address any missed spots by guiding you to spend 20 seconds in the areas you missed during brushing.
Does the incoming Sonicare Flexcare Connected solve a problem or merely represent more Internet of Stupid – is my brushing bad enough to justify continual monitoring and remediation (and do I really want my phone next to the sink?) Can I link up with friends, like Fitbit, to see who brushes better (and issue taunts)? Never mind oral hygiene, what happens to one's stress level should we forgot to compulsively track each session?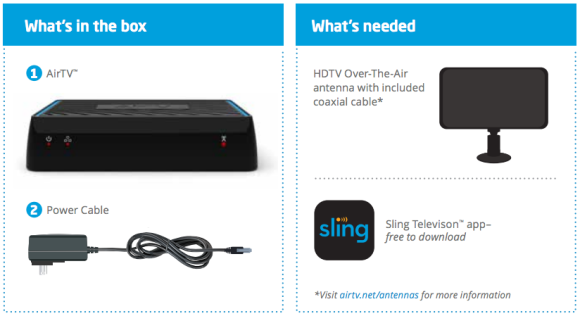 Bypassing content licensing, Sling TV may soon cram customer's local television channels directly into the company's pay TV service via a small set-top box and antenna.
Last summer, I came across a curious Echostar trademark application for "AirTV" which was later discovered to be a pedestrian new Slingbox out of Echo's Sling Media subsidiary. However, given a well-timed tip, from a trusted source alerting me to incoming Sling Media hardware, that coincides with a lifting of the FCC's short-term confidentiality, an audacious game plan has now been revealed.
By and large, the challenge in licensing over-the-top streaming content has not been in securing a gaggle of traditional "cable" channels. Rather, it's in bundling the national networks (think: ABC, CBS, Fox, NBC) due to their legion of regional affiliates – who expect to be compensated in cash and/or broadcast of their local advertising. The cost and logistical challenge in brokering these relationships is immense, as demonstrated by Sony recently scaling back the PlayStation Vue television service and, perhaps, given the M.I.A. Apple TV offering.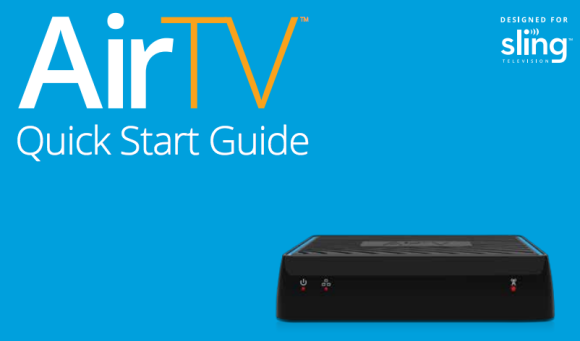 Well, DISH Network subsidiary Sling TV and Echostar subsidiary Sling Media have collaborated on what looks to be an effective and novel end-around in "AirTV."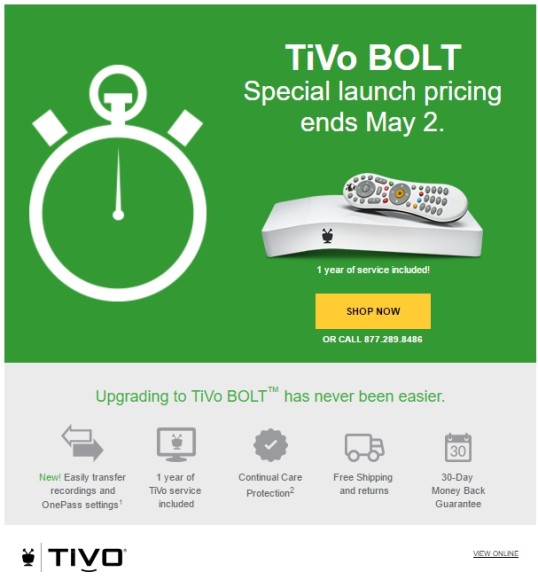 As TiVo marketing continues to struggle, amidst "Patent Trollvi" merger rumors, the company appears poised to shake up Bolt pricing come May 2nd. While retail sales have been on the upswing, I wouldn't call them stellar and I can't imagine TiVo would outright raise prices. However, I could envision a scenario where they drop the bundled year of service to lower the cost of entry and potentially further reduce churn as the folks who buy-in come prepared for a recurring monthly fee. Further, with a Bolt OTA model supposedly back in play, after missing its 2015 launch, they'll want to make pricing as palatable as possible given a high percent of price-sensitive consumers in the cord cutting category.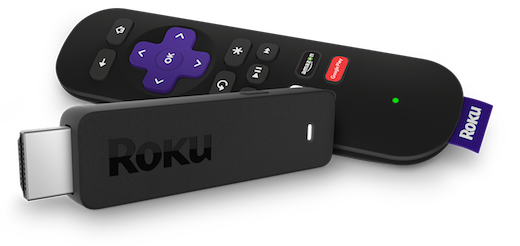 Those who follow me on Twitter already knew something was in the works… and, today, Roku comes clean with their new streaming Stick (3600). As you'd might expect, it's more powerful — featuring a quad-core processor and dual-band MIMO wireles packed in an even smaller HDMI dongle. Also along for the ride is the new 7.1 OS, which enables "private listening" from Roku's mobile app. Instead of routing audio through your television, it's streamed to your smartphone and can be listened to over wireless or Bluetooth headphones, so as to not disturb  others and as previously seen via the Roku 3 remote control. While currently a Roku Stick exclusive, I'm hopeful the 2015 Roku 2 will be treated to Roku's most unique feature in the not-so-distant future.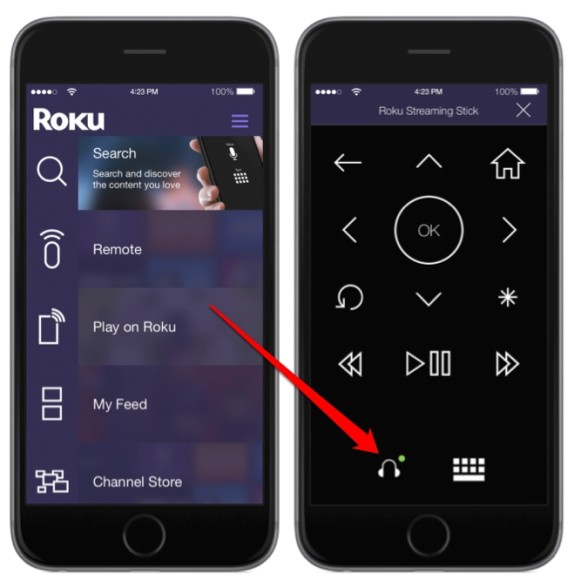 As to other software goodies to look forward to, Roku's updated API now allows app developers to ingest content via digital tuner — think Roku TV. So that creates all sorts of interesting possibilities. And I'm still holding out for a USB-connected tuner for full-on boxes like the Roku 4…
Back in March, I came across a little nugget indicating a new Amazon Kindle would be unveiled this month. Although, at the time, I wasn't entirely certain if it was another e-reader (despite being described as such) or a refreshed Fire tablet. Or, perhaps, even an existing product destined for a new market. Well, today, Amazon CEO Jeff Bezos has set the record straight with this out-of-character pre-announcement:
The little information I've dug up via regulatory filings and International shipping manifests indicate at least one model (and there may only be one) ships with WiFi, Bluetooth, and cellular connectivity – likely running running $200 or more (given an uncertain conversion rate and retail vs wholesale pricing) and presumably replacing the Voyage with a newer model of unclear branding.
Regarding new features, I don't have much and can't tell you, for example, if we'll be treated to a new e-ink display or the return of "real" page turn buttons. But, while it's often cheaper and easier to procure wireless chips containing both WiFi and Bluetooth capabilities these days, I'm hoping the new wireless protocol is truly present… as in "active".
Beyond the device itself, there's mention of a powered leather cover of some sort. I can't tell you if this represents an extra battery, a keyboard, or is merely something lost in translation. But rest assured, I'll continue digging (with the help of AFTVNews and The Digital Reader), until the big unveil next week.
Amazon has passed what looks to be a second generation Dash button thru the FCC — based on filing approach, device profile, and model number. But, given the very limited information, the only obvious enhancement is Bluetooth LE joining the existing 802.11 WiFi variants, potentially allowing smartphone or home automation interaction beyond what's currently available in merely reordering supplies via wireless. Alexa-like integration would be cool…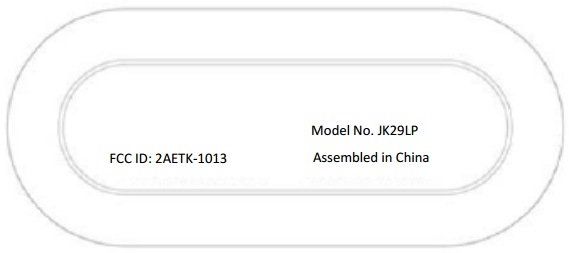 As to other upcoming Amazon reveals: I'm also currently tracking what's either a new Fire tablet or Kindle e-reader or, alternately, an existing device of that sort headed to new markets. Stay tuned.