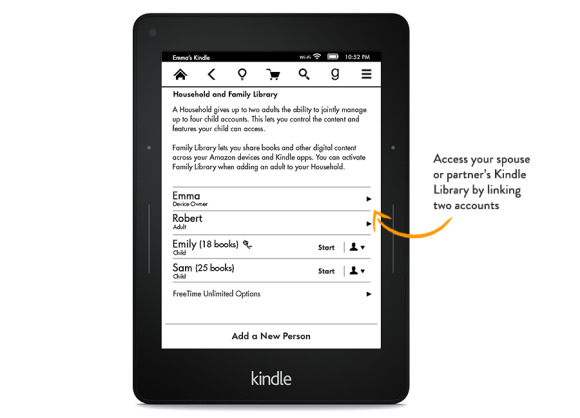 Beyond unveiling a boatload of new Kindle reader and Fire tablet hardware, Amazon finally gets with the program in allowing households (or close approximations) to share their digital media. Not that the current situation has prevented my wife, mom, and I from sharing our Kindle books and Amazon Instant Prime video streaming, Amazon will soon smooth the experience and remove the criminal element by delivering a Family Library:
Never again worry about whose account has the Prime membership or who bought that book you want to read. Family Library links your Amazon account to that of your spouse or partner so you can easily share apps, games, audiobooks, books, and Prime Instant Video content within your household without changing accounts. Family Library lets families share their content across multiple devices, including Kindle e-readers, Fire tablets, Fire phone, and Amazon Fire TV, as well as on all of the other most popular devices and platforms with the free Kindle, Audible, and Amazon Instant Video apps. Family Library will be coming soon as part of a free, over-the-air software update.
Further, Amazon one ups the iPad by bringing Profiles to their line of Android-based Fire tablets:
Give everyone a personalized experience—each family member gets his or her own Profile, including individual email, Facebook and Twitter accounts, settings such as display brightness, page in the book, spot in a movie, and game levels, without taking up extra storage on the device for multiple copies of large files like videos and games.