I tend to avoid most gadgety Kickstarters, given their poor track record in delivering high quality products on time, if at all. But Sideclick deserves some special attention — as this accessory meets a real need and they're far enough along in development that they've been able to send some review samples out.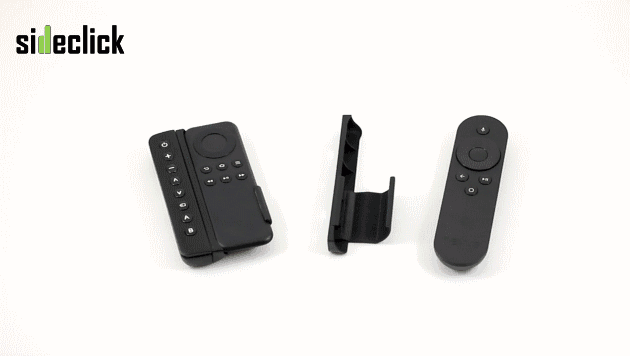 As those of us with Apple TV, Roku, and Amazon Fire TV are well aware, their respective diminutive remotes don't control our televisions. And not all situations should require a Harmony investment. Enter Sideclick, a clever modular accessory that consists of an IR learning remote and a replaceable cradle custom fit for your particular streamer. What you lose in ergonomics and beauty, you presumably more than make up for with less clutter and improved convenience.
Looks like they're shooting for an early 2016 launch, running about $30 for a remote and cradle bundle, with replacement cradles running perhaps $8 a pop. I personally don't feel the need to pre-order, especially with new Apple TV and Fire TV hardware on the horizon. But color me interested.
Some prototype reviews:
TechHive
Setup is quite simple. After placing Sideclick and a TV remote about an inch apart, just hold the power and "B" button, and a red light blinks rapidly to indicate you're in programming mode. You then hold the Sideclick button you want to program until the light goes solid, then hold the corresponding TV remote button until the light blinks again. Repeat this for each button, and you're done.
AFTVNews
The clips hold onto the Fire TV remotes using only the elastic pressure of the slightly flexible plastic. The prototype clip I tested held the Fire TV voice remote very securely. The Fire TV remote did not slide up or down at all while held in the clip.