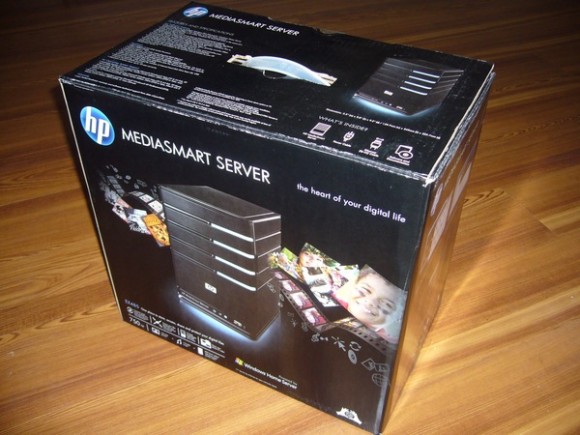 I had pretty high hopes for my recent HP MediaSmart (EX485, ~$500) acquisition but, after a fun-filled day of disaster recovery, I'm second guessing my purchase. This Macworld Best of Show award winner supposedly offers multi-OS backup, including Time Machine support. It can also act as a central iTunes server, stream media to your Xbox 360 (Twonky), run SageTV, and even permit remote access. The EX485 sure looked like a good start in fulfilling my desire for a 'personal cloud'.
To configure the Windows Home Server (based on Windows 2003), I went for convenience and used my Vista Ultimate (thanks, Ivan!) Boot Camp partition. Later, I hopped on over to OS X and installed the HP software. My first task was a full Time Machine backup, which went smoothly – taking only a couple hours over WiFi. That was Saturday. Yesterday (Sunday) is when it all unraveled.
Accessing the WHS console from Boot Camp sent my Macbook to a blue screen. Not terribly unusual in the Windows world, and I figured a reboot would clear it. Except there must have been some data corruption as the Mac would no longer boot, leaving me at a grey screen with the Ghostbusters logo. To add insult to injury, I couldn't even boot my install CD to access the Disk Utility. A PRAM/NVRAM reset didn't help. I thought I followed the directions to enter single-user mode, but I must have missed a key. Because when I hit the Apple Store (on Easter Sunday?!), The "genius" got it up. A disk repair didn't improve the situation, so we were left with the nuclear option of a disk wipe and OS reinstall. No problem, right? I've got a full Time Machine backup at home. But you probably know where there story is going…
Cutting to the chase: HP MediaSmart is only partially Time Machine compatible. Of course, their marketing material fails to make that distinction. In fact, most of the device news/blog coverage also fails to mention it. Digging deep on the HP site, after the fact, I found this:
the "Restore System from Backup" feature of Time Machine is not implemented.
As far as I'm concerned, that's the primary reason to use Time Machine. (And exactly the functionality that WHS provides on the Windows side of the house.) There are plenty of other ways to backup and recover individual files. In fact, I used a few including Mozy and SugarSync. What I needed yesterday was complete disaster recovery. (Which, ironically, the MediaSmart server caused.) How HP can claim Time Machine integration, without this critical feature, is beyond me. In fact, Apple should probably smack them down to prevent others from learning what I did the hard way.