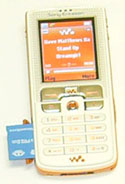 Like most gadget freaks, my buddy Matt has an impulse control problem. That's how he ended up with the Sony Ericsson W800i, aka the Walkman Phone, with a new Cingular contract… in addition to his existing Sprint phone and contract. Not that I need an excuse for a road trip, this seemed like an excellent time to drive up to NJ and check the phone out.
Let me begin by saying I haven't read the manual for my new Panasonic Lumix FX9, so these pictures aren't the greatest. But trust me when I say the W800i is a sexy little phone — the unique color scheme looks sharp. The display is bright and vivid with a slick animated theme. For those of you familiar with the SE T610 and it's derivatives, the W800i is of similar size and shape.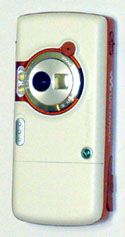 The phone is no iPod. It's also no ROKR. The music interface is nice enough, though navigating via the sensitive thumbstick often resulted in overshooting selections. Sony provides a data cable and PC software to load the phone up with MP3 and AAC tracks. Unlike the ROKR, there's no restriction on the amount of songs you can play from a Memory Stick PRO Duo card. The phone has a built-in FM receiver — a nice-to-have at my gym which broadcasts television audio via FM. I don't normally make it a habit to share earbuds, but in the name of science I tried these. The bundled buds are small, soft, and low-profile that fit securely but comfortably — they don't isolate sound the way my Shure's do, but you can wear Sony's for an extended period of time without discomfort. What really surprised me is the external speaker that puts out decent audio. I could definitely envision sitting the phone on my desk and listening to some tunes at work.