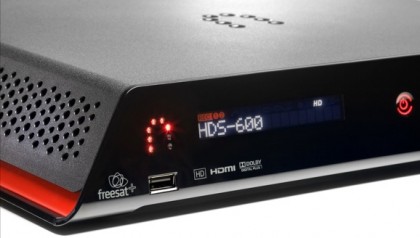 In an attempt to produce that oh-so-elusive all-in-one "God Box", EchoStar has introduced the SlingLoaded HDS-600RS to the UK. Not only is it a dual tuning Freesat+ DVR that offers Internet apps (BBC iPlayer is up first), it also provides integrated Slingbox placeshifting capabilities. Allowing one to enjoy those 150 free satellite channels around the home… or anywhere beyond.
The inscrutably named HDS-600RS is available for pre-order from Amazon, ships next week, and clocks in at £350 — which equates to about $575 USD. On one hand, that seems somwhat pricey and you'd think EchoStar might have provided something more than a 500GB drive or thrown in the mobile apps to sweeten the deal. On the other, there's a lot of functionality to be had here and it's not like owners will be burdened with box or content subscriptions/fees.
Slashgear went hands on with a company rep and shot video of the box in action (and where I swiped the UI shots from) – check it out!
Click to enlarge: