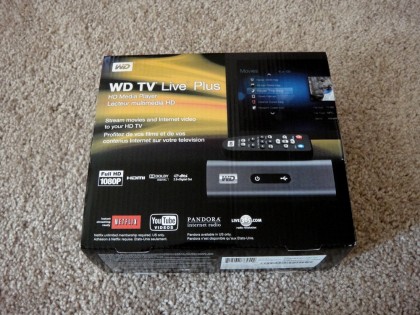 So, when the WD TV Live Plus (~$120) was announced I made arrangements with Western Digital to take a look at a review loaner. As it turns out, my buddy Tom couldn't wait and picked up a unit which he reviewed here. Overall, he came away relatively pleased with media streamer's local media playback capabilities and new Netflix integration despite a few bugs we hope will be resolved with a firmware update.
But we still have to do something with my device. Which is why I shot a pair of Roku/WD TV comparison shots (below) and have been cleared to give it away. WD's box a bit smaller and sleeker than Roku's, and even though you don't see component outputs, that connectivity is indeed provided via a bundled break-out cable. Wireless capabilities are also an add-on. However, you'll need to bring your own card.
Entering the WD TV Live Plus giveaway is as easy as it gets, simply leave a comment. (US residents in the lower 48 only, please.) We'll choose the winner at random in a few days.
Click to enlarge: