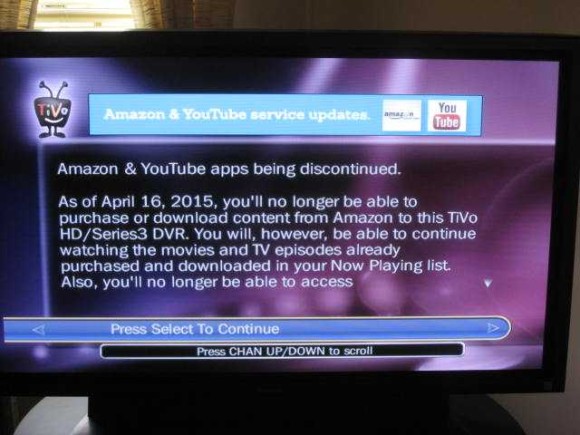 TiVo app pruning continues… As previously reported, Amazon Instant downloads were to be dropped. Well, as it turns out, TiVo Series 2 and Series 3 owners will also be losing YouTube access come April 16th:
All good things must come to an end, right? Well, that's the case here. As of April 16, 2015, you will no longer be able to purchase or download content from Amazon with TiVo Series2 and TiVo HD/Series3 DVRs. You will, however, be able to continue watching the movies and TV episodes already purchased and downloaded in your Now Playing list. TiVo HD/Series3 users, you will no longer be able to access videos through the YouTube app. We apologize for any inconvenience this may cause
Beyond Amazon and YouTube, TiVo has also killed their podcast download feature on all platforms: "Sorry, Video Podcasts are no longer available. We thank you for using this service in the past." I guess they prefer you now stream that content via Hotlist on Premiere or Roamio.
It's not quite forced obsolescence, but it still stings when companies abandon aging platforms and perhaps under-utilized services. But, hey, get a deal on something new?
We've set aside smarter, stronger and zippier TiVo Roamio DVRs (which include the Amazon YouTube apps) at an extraordinary upgrade price just for you. These offers are so good they will make you forget this minor inconvenience ever happened. To hear all about it, contact the TiVo Call Center today at 877-BUY-TIVO.
(Thanks DK and Roger! Sorry for your loss.)