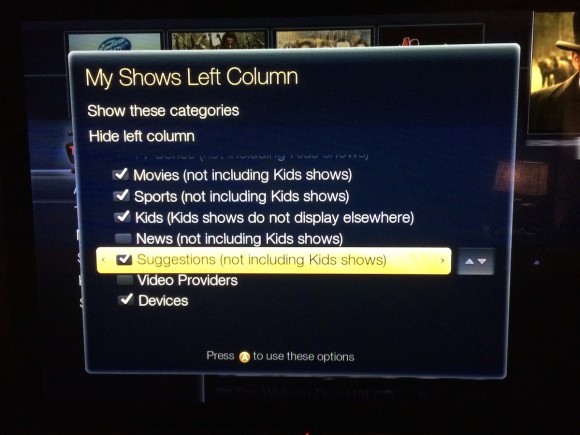 With TiVo's minor spring update behind us, the company has turned its attention to perhaps the most dramatic interface update since the launch of their original HDUI in 2010. It appears the primary objectives are improved UI consistency and completeness, along with additional discovery and organizational options. As RCN's Jason Nealis alluded to just a few days ago, TiVo "plans to have the UI better present content from across these different sources in much more of a one stop shop" and a bit earlier had mentioned "some very cool enhancements coming down the pipe."
Indeed, TiVo's summer update is slated to bring the sharper Roamio interface to Premiere and Mini hardware, as TiVo VP Margret Schmidt had suggested several months back. Further, we see minor UI tweaks throughout. Yet, there remains work to be done as the Discovery Bar and optional Picture In Guide periodically vanish when flipping through screens.
The most dramatic addition to the refreshed UI is a third column… that makes its initial appearance in My Shows, along with a bevy of customizations (shown above) to sort our recordings (and more) beyond the "All" headliner. For me, at launch, I imagine the most effective use of this newfound capability would be to call out Movies (given my free HBO subscription). I still question TiVo's approach of sticking video app shortcuts into My Shows, however if the Video Providers category evolved into a provider-agnostic repository of OTT video bookmarks it'd become something far more useful (and unique).

Related, "recording" options in the Guide will cover more than linear television for those with OTT sources and the need for instant gratification (above, right) – once again attempting to further blur the lines between cable and Internet content. Indeed, given intel from a reliable source back in January combined with recent outreach to Premiere owners running the standard definition interface, we expect an updated Amazon Instant will also make an appearance in the next few months. Combine that with Season Passes that bookmark and folderize On Demand content that you may have missed, TiVo's vision becomes quite clear … and perhaps we'll be that much closer to the "One Box" they once advertised themselves as.