Models
After nearly four years, TiVo has retired the tainted "Premiere" hardware and moniker in lieu of the new TiVo Series 5 platform that goes by Roamio – given the DVR's current and expected mobile capabilities.The TiVo Roamio line consists of two hardware models, three configurations:

TiVo Roamio (TCD846500) $200
4 Tuner, Digital Cable & OTA
500GB HD, WiFi, IR/RF Remote
Smaller Form Factor STB
(Broadcom 7429)
TiVo Roamio Plus (TCD848000) $400
6 Tuner, Digital Cable
1TB HD, WiFi, IR/RF Remote w/ Audible Alert
Traditional Size STB
Stream capabilities
(Broadcom 7425)
TiVo Roamio Pro (TCD840300) $600
6 Tuner, Digital Cable
3TB HD, WiFi, IR/RF Remote w/ Audible Alert
Traditional Size STB
Stream capabilities
(Broadcom 7425)

The 4-tuner model (picture up top and above) may feature a unique restriction in that it can be configured for digital cable, via CableCARD, OR for OTA, via antenna – but not both simultaneously.
Of course, all TiVo hardware requires a service fee — either $15 on a monthly basis or via a one time $500 lump sum payment. Although, there are discounts available to households with multiple units.
Software & Apps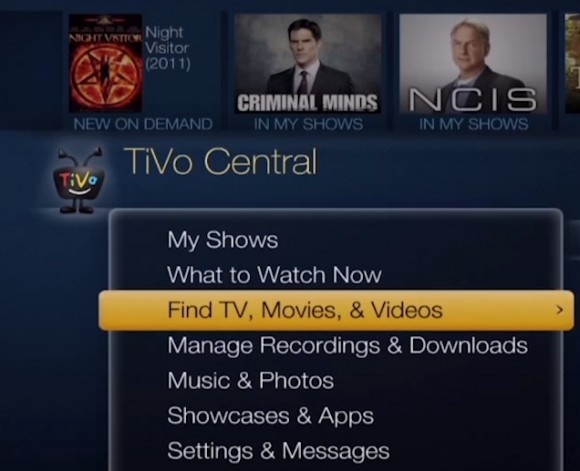 Somewhat unexpectedly, TiVo has undertaken a fairly significant overhaul of their software platform. Along with that, we're treated to improved performance over the Premiere line given a hardware platform that finally exceeds Adobe Air's minimum requirements. Beyond Adobe, TiVo is also implementing DIAL, HTML5 and ultimately Opera's TV app store. We're hopeful this will spur third party development, including a potential refresh of the dated Amazon Instant experience, and Roamio units launched with refreshed YouTube and Netflix apps – featuring more sophisticated screen elements and menuing than present on Premiere hardware. Further, the "What to Watch Now" iPad recommendation engine makes its way to big screen via TiVo Central (as pictured above) and WishLists are finally rendered in HD. Sadly, the settings screens remain SD. Duke Nukem' Forever!
Beyond launch capabilities, rumor has it TiVo's Roamio roadmap suggests some sort of personal media cloud or wireless access and playback – possibly to include updated TiVo Desktop software.

Connectivity
As with prior TiVo DVR hardware, Ethernet is a lock. All Roamio units include WiFi, for Internet connectivity versus mutli-room streaming, and the top two Plus/Pro models incorporate MoCA. The 4-tuner model is limited to HDMI and composite output, versus the 6-tuner models which also include optical and component output — something worth considering for Slingbox owners. All models posses USB jacks for peripherals and eSATA ports for potential storage expansion.
Remote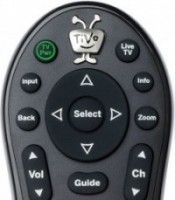 TiVo Roamio ships with a new IR/RF remote, and Plus/Pro models are treated to an audible location alert — it a button on the TiVo and the remote emits an 8-bit tone. The stubbier new remote also features a repositiond and enlarged the Guide button… as studies show DVR users still consume a large amount of live television. Further, we not anticipate the return of a TiVo Remote accessory with QWERTY keyboard.
Stream
The two higher-end units feature a Broadcom chip, on par with the Pace XG1 and DISH Sling Hopper silicon, mated to a Zenverge silicon to provide native transcoding capabilities. Further, TiVo previously alluded to integrated Stream capabilities in next gen hardware. However, unlike a Slingbox, we expect when TiVo enables this functionality, streaming will remain limited to a home WiFi network. It's also unclear at this time if such functionality would be available at launch and/or if activating the feature requires an additional fee. TiVo currently streams and sideloads content to iOS devices including the iPhone and iPad. While Android support is conspicuously absent, All Things D indicates it'll finally arrive late 2013 or early 2014.
Mini
The existing TiVo Mini remains in play, as the whole-home extender already features a modern chipset – the spiritual partner of what's found in high-powered DVRs like the Pace XG1 and DISH Sling Hopper. TiVo's roadmap calls for dynamic tuner allocation to be enabled this September, with Netflix and Amazon Instant looking like a lock.