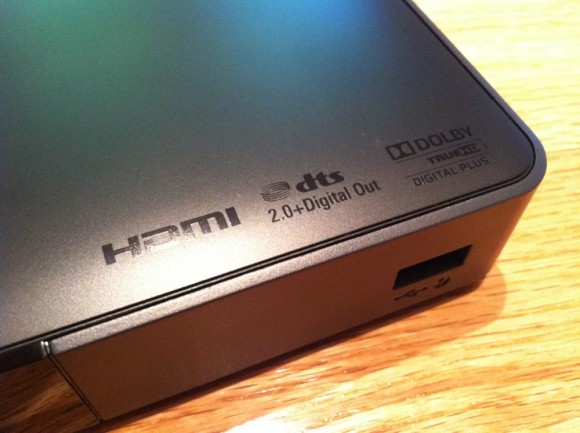 Western Digital has refreshed their WDTV Live line today and the new 1080p streamer ($100) features two notable upgrades over its WDTV Live Plus predecessor. First, WD has integrated 802.11n wireless capabilities – finally putting that competitive disadvantage to bed. Second, it inherits the richer UI as found on its big brother – the 1TB WDTV Live Hub (~$200). This iteration of the WDTV Live is bundled with the Hub's somewhat larger remote that includes a numeric keypad. It's not the most attractive thing, but it gets the job done on anything other than text entry and is certainly more practical than the minimalistic AppleTV remote. Also, on the hardware front, the new unit follows the industry trend of dropping component output. Regardless, the WDTV Live comes better equipped in the connectivity department than aTV or the Roku 2. The WDTV Live shares the same footprint as the prior generation model but it's shorter and sleeker with enough heft that your HDMI cable won't pull it off the TV stand (as it might a diminutive Roku 2).
Of course, what sets the WDTV line apart from many other small, inexpensive media players is its broad support for local media — both in terms of file type or codec and location (USB, NAS, DLNA, etc). I hardwired a USB drive and the WDTV Live quickly indexed the files by format and had no problem with two MKVs as shown below.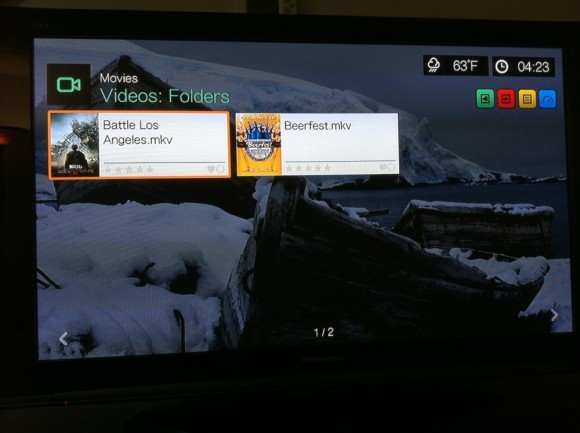 WDTV Live features a solid stable of online streaming apps (below left), not to mention the ability to add RSS feeds. As you might expect, the requisite Netflix experience is present — familiar and well done, including support for 1080p, 5.1 audio, and closed captions. Unlike Roku's solution, Western Digital provides YouTube access… and it's much more responsive than TiVo's similar YouTube "lean back" update. Your video on demand needs will be met by Blockbuster or CinemaNow, both of which I find inferior to iTunes, Vudu, or Amazon VOD. But, it's probably sufficient for most. For audio, heavyweight Pandora is present and Western Digital is pleased to introduce Spotify today — streaming for the first time on US STB hardware.
Roku's made a pretty big deal about bringing casual gaming to their platform (along with a motion-a controlled remote). Yet, I remain unconvinced that this feature alone will move many boxes. Granted my sample size is pretty small, with a niece (10) and nephew (4) who get their gaming fix via the iPhone and Xbox Kinect. However, if casual gaming if your (or your kids) thing, Western Digital has checked this box by offering about 10 free titles including sudoku and poker.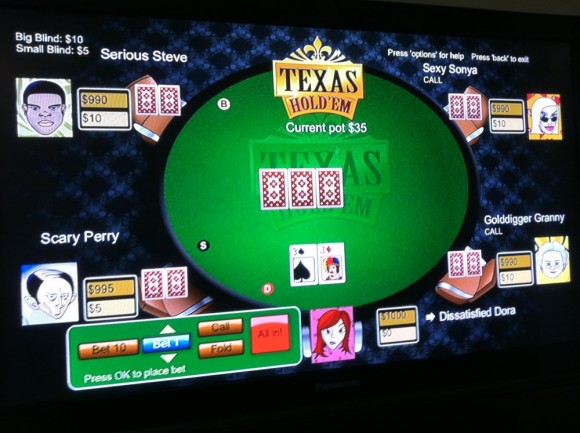 If you're in the market for a new digital media device, there's more competition than ever these days with a lot of options to sort through. For those merely looking to stream Netflix and maybe land a few other bonus channels on the cheap, I'd suggest the Roku 2 HD for a mere 60 bucks. While those tightly affiliated with Cupertino and the iTunes ecosystem will find AppleTV ($99) is the way to go. But the WDTV Live retains its crown as the most well rounded of of the sub-$150 boxes given those local playback capabilities (suitable for the more geeky) in addition to online streaming apps.