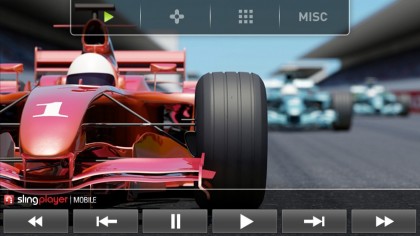 After a somewhat protracted (and public) lead-up, SlingPlayer Mobile for Android will enter the Market late tonight. Priced at the same $29.99 as Sling's other mobile clients (and maybe 1/3rd too much in the current app environment), SlingPlayer Mobile allows you to stream your home television over 3G or WiFi while on the go with the assistance of a Slingbox. Officially, the Slingbox SOLO, PRO, and PRO-HD are supported… but I wouldn't be surprised to learn that some of the older units also get the job done.
Sling Media believes the new Android client provides their most polished mobile experience yet — with quicker app launching and channel changing, along with a refreshed UI. Check out Engadget's video coverage of a beta build, shot last month, to see for yourself. While Sling wouldn't give me the streaming resolution and codec details I was looking for, they did suggest video quality would be comparable to the iPhone client. Leading me to believe mobile Slinging still maxes out at 320×240, WMV. Hopefully, we'll graduate to H.264 and higher resolutions at some point… perhaps divined via confirmation of upcoming iPad support.
Despite what appears to be fragmentation of the Android lanscape, Sling tells me they've successfully built and tested the new SlingPlayer on over a dozen handsets. So it's safe to assume they've got the leading candidates (HTC Nexus One, HTC Incredible, HTC EVO, Motorola Droid, etc) covered.
Click to enlarge: