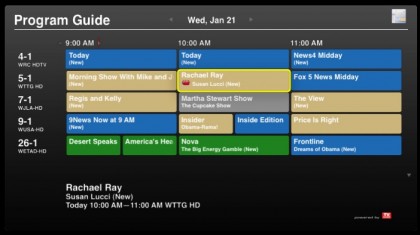 The EyeTV 3.1 software update, released Monday afternoon to existing customers, brings a number of changes to their Mac OS X television viewing and recording software.
First up is the (somewhat optional) replacement of TitanTV with TV Guide as the US EPG source. I see this as a positive move – more comprehensive listings, more days (14) of guide data, and a more "professional" feel to EyeTV. However, not everyone is happy with the change… because it's accompanied by a $20 annual fee after the first, free year. While it's far more reasonable than say Nero TiVo's $99 annual fee, solutions such as SageTV and Microsoft Media Center provide listings free of charge. I suggest Elgato waive this fee for existing customers and/or indefinitely provide TitanTV integration (which presumably costs them less).
Along with the more comprehensive guide data, EyeTV is less like a VCR and more like a DVR with the introduction of Smart Series recording. While the season pass functionality now identifies program titles on the same channel, it doesn't yet offer the intelligence to filter for repeats. However, I assume this functionality is being worked on for a future update.
I experienced a minor blip in migrating EPGs, but otherwise I'm pleased with the upgrade and looking forward to additional DVR refinements. EyeTV software runs $80 and USB tuner sticks bundled with the software retail for about $150, though you can often find it for a few dollars less at vendors such as Amazon.