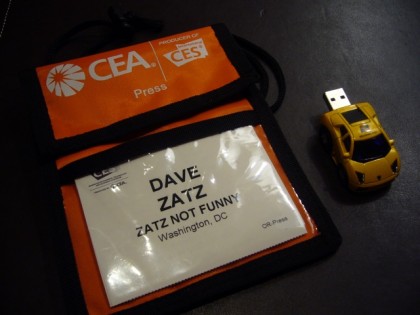 Today marks my first day on the ground in Vegas for CES. And while I was expecting a subdued crowd, I've never been to any tradeshow in this town without an airport cab line. Instead of thousands of folks not showing, I'm hopeful stays have just been shortened. Although, as some wonder, perhaps a trip out is unnecessary given the relative convenience of email and phone briefings. Then again if I weren't here, I wouldn't have enjoyed seeing fellow blogging and press buddies like Brad Linder, James Kendrick, Kevin Tofel, Ben Drawbaugh, Matt Buchanan, Sascha Segan, Lance Ulanoff, Eric Zeman, Ross Rubin, Jason Hiner, etc in person today.
I'm taking it pretty easy until the show floor opens Thursday. This afternoon I hit the ASUS press conference, followed by CES Unveiled. Probably the most interesting product (concept?) I came across was the ASUS keyboard PC. While this form factor isn't unique, ASUS breaks new ground by providing a touchscreen that doubles as a pointing device and by integrating wireless HDMI.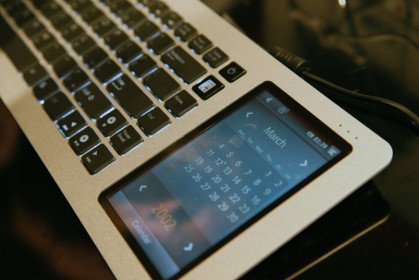 At Unveiled, if I had to nail down a couple of tech trends, I'd say mobile tech was well represented. Especially in the 'netbook' category, with sizeable crowds at the Lenovo, ASUS, and MSI tables. Also, "green" tech (or at least "green" marketing lingo) was well represented. I'm counting on Mari, who arrives tomorrow, to follow up with some of these companies later in the week. And to let us know how "green" they really are.
I generally pass on exhibitor schwag, unless it's worthy of a blog giveaway or something that might entertain my niece. Today's award for best tchotchke goes to DisplayLink. While branded pens are commonplace at tradeshows, this particular model doubles as a 1GB USB flash drive and laser pointer. I might just keep it.

And, without further ado, here's today's earlier coverage:
Posts
Sling's Macworld Goodies: iPhone, OS X HD
Roxio Updates Toast With Mac2TiVo
The Macworld Keynote Snooze Fest
TiVo Beefs Up Search Functionality


Tweets
Ugh, "lost" my camera for 20 minutes and got to airport late. Rushing a Slingbox post up now: iPhone client and OS X HD streaming coming Q1.
Post up, frap in hand, boarding any second now. See you on the other side. And someone email me what's announced at Macworld while airborne.
@gglockner Thanks for all the Macworld updates! I need to fly an Internet-equipped airline next time.
Not looking good? Vegas airport awfully quiet and my first CES experience without a cab line. Guess all these emails will have to wait.
More PR shenanigans. Seriously – if you're going to pitch someone, research where they write beforehand. Not after we agree. Amateurs!
CES press bags are still sponsored by Toshiba, though "HD DVD" is nowhere to be seen. 2007 and 2008 backpacks are now collectors items.
Last year I was a blogger, this year I'm press. But I don't feel any different. Who makes these decisions? http://twitpic.com/10a7h
http://twitpic.com/10alw – ASUS press conference under way.
I don't get this ASUS laptop which is two-in-one. A lightweight alternate bootable OS makes more sense.
ASUS PC-in-keyboard with wireless HDMI and touch display pretty cool. Assuming your have a wireless adapter for your TV, projector, etc.
Gizmodo Matt is sneaking ASUS pics on stage. That haircut is a great disguise!
Logitech Harmony 1100 at CES Unveiled. http://twitpic.com/10b6o
Lobster sized shrimp at CES Unveiled. http://twitpic.com/10b9v
Team Boxee at CES Unveiled. http://twitpic.com/10bcj
Oops. The HDMI licensing folks here at CES Unveiled didn't know about the Gefen DVR that records protected content over HDMI.
@SeanAlex Harmony One is the latest, no updates now to that form factor. Agree – prefer one-handed remotes w/ primarily physical buttons.
WowWee's having an identity crisis. Robotics company now making pico projectors. http://twitpic.com/10bu2
No, no, no. There will be no tru2way TiVo shown at CES. tru2way is ONLY available in Chicago and DVR specs haven't even been shared.
OK, I forgot Denver, too. But I don't expect any new stand-alone TiVo hardware THIS YEAR. Maybe TiVo will pull a NXE, based on the leaked UI…
However, maybe we'll be able to dig up some news on the new DirecTV/TiVo solution. And what about Cox deployment?
@raianoat Don't know if Drobo is here. Will keep my eyes peeled for them at ShowStoppers or PEPCOM. (Where I saw them last year.)
Saw the new Shures (SE 115) at Unveiled. Not really digging them. My EC2s from years ago are pretty worn… need a decent replacement.
Where are all my fellow Wynn press/bloggers? Now that my writing for the day is done, I need a burger. And I'm not taking a cab. DM STAT.
Dear PR People, If your auto-reply states you 'have limited access to email' during CES, I suggest your employer provide you a smartphone.
@RhapsodyPR Looking forward to the Rhapsody news. But no way I'll be stopping by the MGM. You may as well be in Reno.