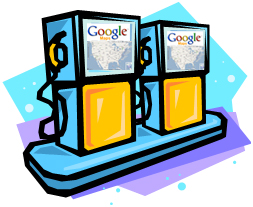 Most of the news on Google is (rightfully) focused on the giant's new mobile phone strategy. However, there's a story in the AP today (covered by our buds at JKOnTheRun) on a new initiative to bring Google Maps to gas stations. This is utterly brilliant. A few of the gas stations near me have started adding TV screens to their pumps. Since all I usually do when I pump gas is stare at the numbers showing the amount of money I'm pouring away, I think the TVs are a nice improvement. I'm a captive audience, and I'm not complaining.
However, adding in Internet-connected screens with Google Maps on them is actually useful to me. I sadly have no sense of direction, and even with a GPS unit in my car, I like the idea of having something as user friendly and quickly adaptable as Google Maps available at the gas pump. Even if I'm not lost, it's a nice way to look for a short cut to wherever I'm going. Or just to browse local routes since even after six years I still don't know a lot of the back roads in my area.
One thing is clear, Google is finding a range of ways to go mobile. And hey, those gas station screens will hit the market in December, long before Google handsets are available. Just in time for holiday travel.