Archives For TiVo
Woot's clearing reburb first generation TiVo Minis, once again, for a compelling $70. As a refresher, the TiVo Mini extends a TiVo Premiere, Roamio, or Bolt to another TV in the same home – both live television and DVR recordings, carried via Ethernet or MoCA. And the primary, noticeable distinction of this original TiVo Mini, vs the current model (MSRP $130), is inclusion of an IR remote. So you can't easily hide the extender inside a cabinet, as you can with the RF remote capabilities that ship with v2.
(Thanks Greg P!)
By way of Com Hem, an international TiVo partner, the DVR pioneer appears poised to launch smart watch apps for remote control — citing both the Apple Watch and Android Wear platforms. Beyond replicating existing smartphone app functions, like changing channels as while browsing the live guide, TiVo indicates voice control is also on the docket… as alluded to last September.
Initially, these Dick Tracey-esque wrist interactions appear specific to Com Hem TiVo customers (and the apps are saddled with a 'beta' designation). Yet, with CES just kicking off, I suspect we could learn more about potential retail customer support within the next 48 hours.
As to other TiVo news from the Vegas trade show, an HBO GO announcement seems like a lock and I'm hopeful we'll learn more of an OTA-only Bolt solution… with or without "Aereo" branding. Continue Reading…
As Comcast, the nation's largest cable provider, continues to transition from MPEG-2 to more efficient MPEG-4 video delivery, TiVo is walking back plans to abandon legacy hardware.
Whereas TiVo Series 3 and HD owners were originally told (in dramatic fashion) to upgrade their DVRs (at a cost, of course), I assume the fear of significant stand-alone customer defections motivated the company to rethink their approach … and they're now engineering a solution to retrofit TiVo HD hardware.
TiVo HD and TiVo HD XL: TiVo is working on a software update which will bring MPEG4 capability to TiVo HD DVRs. Customers can expect this update sometime in the first half of 2016.
The original Series 3 is still out of luck as far as MPEG4 goes and both platforms are smarting from the loss of Amazon and YouTube video. Yet, I'd wager that most these TiVo owners have had a great 7-10 year run — a span pretty much unheard of in this space.
(Thanks Mike!)
As we await the TiVo WWE app and long overdue Hulu refresh, a Google alert tripped several weeks back has seemingly confirmed HBO GO will also be on the docket. I've got no pretty marketing materials or photographic evidence to share with you, just an HBO GO config file … with 288 provider references to TiVo. And, thus far, Comcast won't be blocking TiVo owners from accessing HBO GO. I expect Roamio, Mini, and Bolt hardware will partake whenever the time comes. A December announcement would be ideal, given the critical holiday shopping period. But, dependent upon where TiVo is in the development cycle, they could conceivably be holding back for a CES unveil.

There's no evidence yet of support for the cord cutter-centric HBO NOW streaming service and it appears release of an OTA-only Bolt is stalled. Yet I expect both to eventually turn up.
Along with the introduction of the TiVo Bolt came two highly publicized new features: QuickMode and SkipMode. QuickMode allows one to plow through recordings at 1.3x speed with minimal audio distortion, while SkipMode introduced TiVo's take on commercial avoidance. Existing Roamio DVR owners were promised a QuickMode upgrade, but told SkipMode would remain out of reach. And we didn't like it.
As promised, TiVo has reevaluated that approach … and come to a favorable ruling.

Based on a holiday promo and image assets hosted by TiVo.com, we now know SkipMode should begin hitting Roamio units December 10th. And one can safely assume the behavior will also extend to TiVo Mini extenders.
Don't miss your chance at big discounts on TiVo Roamio DVRs before they're gone forever! For a limited time, we're offering a year of free service when you purchase TiVo Roamio. Roamio DVRs will include innovative features, like SkipMode (in select markets*) and QuickMode, so you can jump past commercial breaks with a single click or watch recordings and shows with a buffer 30% faster with pitch-corrected audio. So act now and take advantage of this offer while supplies last. There aren't many left! *SkipMode available in San Francisco/Bay Area and Chicago markets.
While TiVo's CEO is (finally) moving on and though it may be too late to salvage their retail business ambitions, the product team continues cranking away. As such, TiVo has just opened the Priority list for Premiere, Roamio, and Mini customers looking for an early 20.5.6 software update. I've got no intel on this round and assume it's mostly bug fixes… hopefully to include the one which will finally allow their WWE app to be published. It'd also be real swell it the Bolt's commercial skip functionality made an appearance. But given its recent uncertainty, even if a favorable decision has been made, it could take some time to implement.
Boxes will be updated in groups. If you would like your TiVo Roamio, TiVo Mini, or TiVo Premiere to be in one of the first groups to be updated, please enter your TiVo Service Number below. Note: Only TiVo boxes purchased directly from TiVo.com or a retailer are eligible for this update. Boxes provided by cable companies will be updated on a different schedule.
Those looking to stream live and recorded TiVo Bolt, Roamio, or 4-tuner Premiere video to other televisions around the house have a nice deal to contemplate today… As Woot's offering up the first gen TiVo Mini is on sale for a low $70. Sure it's a refurb that only ships with an IR remote (versus RF on the latest model), but this minimal expenditure adds a whole lot of value to existing TiVo households – as it also includes Lifetime Service.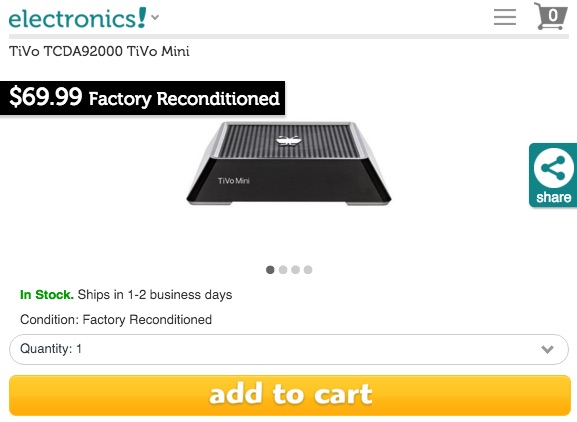 In fact, I'm tempted to add another as we set up our guest bedroom. While we're not wired for Ethernet at that location, our networking needs would be covered by the Mini's integrated MoCA capabilities using the existing coaxial outlet. However, integrated WiFi would make Mini infinitely more flexible and I keep holding out for a Verizon FiOS Roku app. Looks like I have about 8 hours to decide…
(Thanks Elias!)