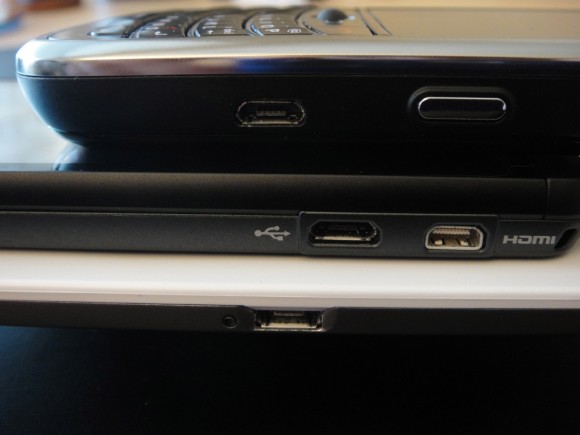 I doubt we'll ever see a single, universal cable or connector to power each and every single mobile gadget… However, given the various devices that pass through my home and auto, it appears like we've settled on a solid trio of options.
Of course, there's the iEcosystem's dock connector. Yeah, it's mostly proprietary. But given the vast number of iPods, iPhones, and iPads in circulation, it's essentially the standard for many. Mini USB seems to be broadly deployed as well. Although, it's clearly losing ground to the slimmer Micro USB connector. In fact, that revelation is what inspired this post. Just about every non-iDevice I've come across in recent months sports Micro USB. See my Blackberry Tour, Droid X (loaner), and Kindle above, for example.
Even though the industry hasn't settled on a single, common connection, the majority of cables fortunately terminate with a standard USB connector for charging and/or syncing purposes. Making the nearly flush Belkin USB auto charger below a handy universal adapter. I picked up a pair last fall for our vehicles, and they've served us (and our gadgets) well. The ultimate home solution is probably a small, powered USB hub and some short cables from Monoprice. Unless, there's an attractive charging station that already meets this need. Bueller?