By correlating the recent Roku FCC leak against information obtained from two Canadian channels (1, 2), we now have a pretty good idea what Roku intends to do this fall with five new models… including potentially moving away from a tired, repetitive numerical naming convention and the introduction of HDR capabilities.
Roku Express
Replacing the Roku 1 in the streaming company's lineup is the Roku Express (3700) and Express Plus (3710). As to what's new and the differentiation between models, I'm not entirely certain. However, it's reasonable to assume the 2016 Roku 1 would feature a more capable processor and if the distinction between the Premiere and Premiere Plus models (below) is any indication, perhaps the Roku Express Plus model features additional ports or that desirable headphone+voice control remote. I'm hopeful that at least one model will retain RCA composite outputs to support older televisions.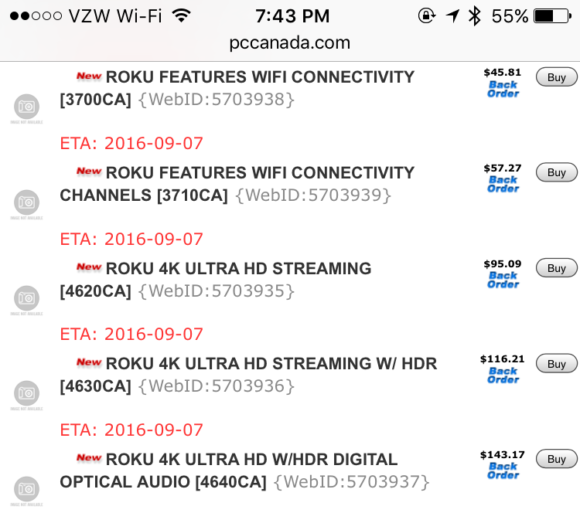 Roku Premiere
The Roku Premiere (4620) and doubly good Roku Premiere Plus (4630) look to slide into the Roku 2 and Roku 3 product slots. However, unlike their 2015 iterations, the 2016 Roku 2 and 2016 Roku 3 will both feature 4k capabilities. The primary differences between the Roku Premiere and Premiere Plus seem to be the inclusion of Ethernet and microSD for the Plus model. I'd also assume the Plus model ships with that better remote, as we see now when comparing the Roku 2 v 3.
HDR is apparently confirmed only for the Plus model at this time. But we'll see if that designation sticks. In any event it's a much-needed improvement over the 2015 Roku 4. Further, I'm hopeful they've figured out how to design these in such a way to overcome heat issues and do away with the (loud) fan — similar to the Amazon Fire TV which does 4K in a tight, fanless enclosure. In any event, Roku continues to offer 4k for less than the 1080p Apple TV.

Roku Ultra
The Roku Ultra (4640) replaces the Roku 4 in the lineup. Beyond the Premiere Plus' features and functionality, the Ultra ratchets up its capabilities further with a remote control finder and optical out… as seen with the prior model. However, this flagship Roku also brings HDR for 2016 and is the only model to feature USB for accessing local media.
While one listing has these new streamers arriving as early as September 7th, I have my doubts given Roku's suppression of their FCC filing citing some sort of marketing considerations – perhaps in relation to the new naming convention? But I imagine they're quite motivated to get the boxes released this fall given the ever-critical holiday shopping season. And, given those Canadian valuations, it looks like prices will roughly track the 2015 models.