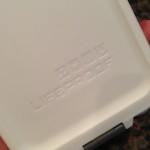 After much anticipation, the Lifeproof frē ($80) arrived at Best Buy last week. Like its predecessor, this iPhone 5 case is designed to protect your smartphone from dirt, water, and drops… in a much more svelte form factor than the fairly well known ruggedized Otterbox line. Yet, while Lifeproof's marketing materials are compelling, I don't have much confidence in the reality.
My case survived the recommended one hour water test, sans phone, and I expect it would have done fine job protecting from splashes at the kitchen sink or in the rain. But there's no way I'd be comfortable fully submerging the iPhone 5 — given the case's construction, including an issue with the bottom corner that didn't have a flush seal (below right) despite realigning the O ring. Also, speaking of construction, while the frē is certified to survive 6′ drops it's less rugged feeling and thinner than the competition — so they've presumably achieved this feat via superior engineering, yet I wouldn't want to test their claims.
However, my biggest issue with the Lifeproof frē is the concave screen protection that bulges towards the top and bottom of the iPhone 5 screen. It's not the greatest look, as you can see above, but more practically it results in an inconsistent touchscreen experience. Interacting with the iPhone screen works as expected towards the center, but the top of the iPhone is essentially no longer touch sensitive and requires a press of the plastic film to close the gap. It's highly annoying. And for 80 bucks, I'd expect a better design and higher quality.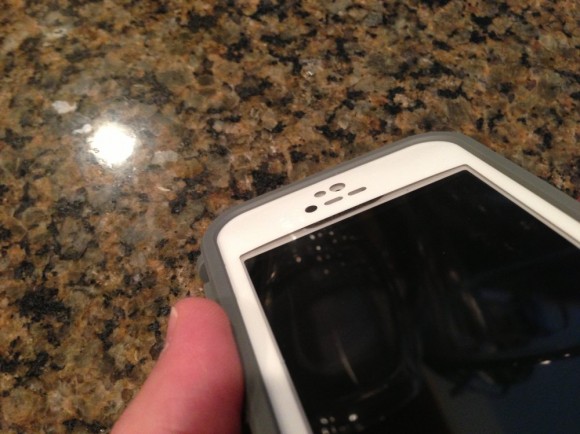 While there's no such thing as "The Best iPhone 5 Case", here are a few we've recently sampled – including our daily driver. And don't be turned off by the MSRP, as online prices are often 50% less.
Diztronic Clear Flexible Case, $10
This case was probably our favorite… until it started yellowing on the back. It's a simple clear gummy skin that looked good on the white iPhone 5 and had the right amount of tackiness to hold on to, but not enough to get stuck in your pocket. I assume many vendors on ebay and Amazon are reselling the same case, with custom logos of course.
iSkin Solo, $30
After good luck with prior generation iSkins, we were extremely disappointed with the new iSkin Solo for iPhone 5. While the case looked sharp and felt good, the fit was off and the phone would shift around in the case – they must have gotten the measurements wrong. Unfortunately, you'll pick up the tab for return shipping and to receive a RMA you're going to have to call Canada. We're still waiting for a refund a couple weeks later…
Speck Candy Shell, $35
I really loved the look, feel, and perfect fit of Speck Candy Shell for iPhone 5. But we went with the glossy white model… which is an entirely different shade of white than the one Apple uses, and the colors were not at all complimentary. However, we suspect another color or using this case with a black iPhone would yield better results.
Otterbox Commuter, $35
We wanted to give Otterbox's semi-rugged "Commuter" solution a look, over their bulkier "Defender" series. And believe it to be a good value given it's quality, included screen protector, and given online pricing. The two layer matte white/grey variant looked sharp with the white iPhone 5 and the phone felt well protected. Unfortunately, we found the lip surrounding the screen to be somewhat too high and occasionally uncomfortable when accessing the screen.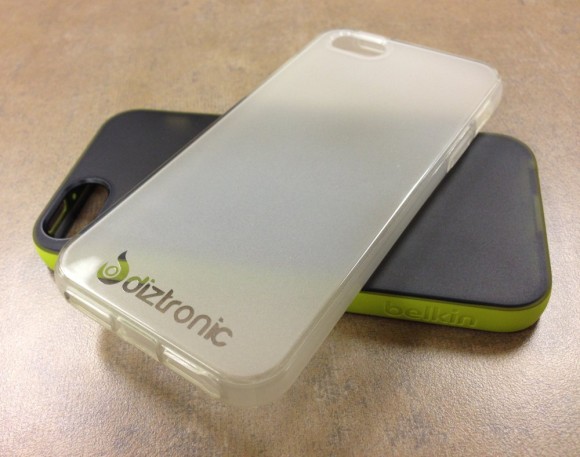 Belkin Grip Candy Sheer, $25
Belkin may not get home automation, but they've produced a winner in the Grip Candy Sheer iPhone 5 case. It's slim, encases the phone snuggly, and comes in a variety of funky color combos. It's not rugged, but it will protect your scratch-prone phone from day-to-day scuffs and has a tall enough lip around the front to place the phone face down without fear. And this is the case that I'm currently sporting, although I do worry it's a little too slippery.
Ballistic Smooth, $30
This is a case we would have liked to have tested, given The Wirecutter's endorsement and unique styling with flared, contrasting colored corners. Yet the charcoal case is perpetually out of stock at Amazon… and some reviewers have indicated those corner nubs have popped out and been lost, which gives us pause.