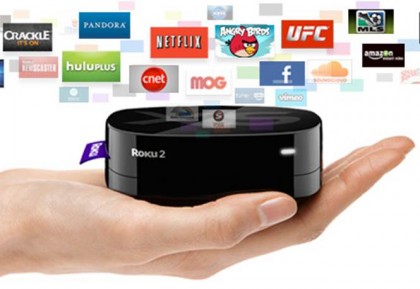 Amid new Roku apps and the launch of the Roku Streaming Stick, company CEO Anthony Wood also let slip this week that Roku "has been in talks" with companies about introducing new lower-cost, broadband-only TV services. Wood said at a recent industry event that he expects a new virtual MSO to pop up in the next 12 months. Such a company would offer a limited channel line-up delivered entirely over the Internet, and would target consumers unwilling to shell out major cash for cable TV.
We've heard people forecast the rise of virtual MSOs before, but the timing was never right. Today, however, consumers are well accustomed to watching TV online, and both content and service providers have had time to experiment with different models of Internet delivery. We're also already seeing companies like Aereo and Skitter test out hybrid television models, suggesting that there's a market for cheaper TV service.
It's important to note, though, that Wood doesn't expect some new start-up to jumpstart the virtual MSO market. Says Wood: "A lot of this is about getting access to the content, and that requires a lot of money and experience to structure it well." That means we're looking at an industry incumbent to be the source of a new online TV service. And it also means that any future venture is only going to move forward in a mode of extreme caution. Incumbents want to protect their existing revenue sources. Any new service will operate with that premise at its core.