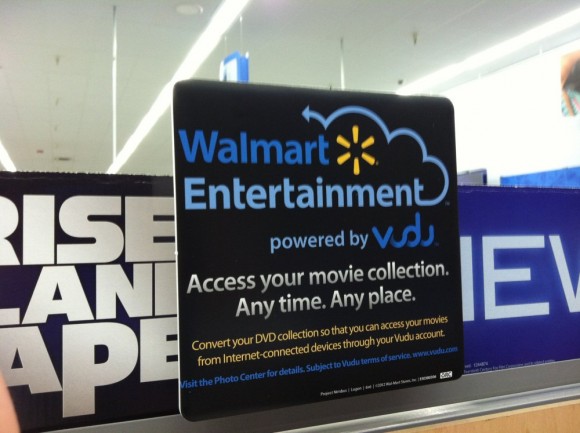 Wal-mart's Disc-to-Digital service, launching under the Vudu brand, became available today. That's the theory anyhow. Unfortunately, reps at two different local Walmart outposts tell me they haven't yet been trained and I was unsuccessful in getting my discs "converted" during lunch.
Backing up a bit, this new service falls under the studio-backed UltraViolet initiative — which aims to provide a global content licensing and streaming catalog. Buy a DVD, get a digital copy. Buy a digital copy via Flixter, watch it on Vudu. Etc. And, while I had some initial doubts, it seems as if the component partners and pieces are actually starting to coalesce nicely. However, you'll forgive me for remaining skeptical and apprehensive in the licensing of digital content… given the abandonment of other relatively prominent solutions, such as Yahoo Music or Microsoft PlaysForSure. Not to mention my less-than-stellar experience today.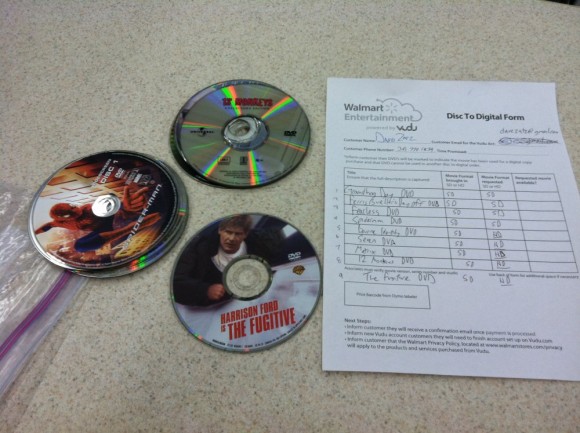 The way Disc-to-Digital is intended to work is that you show up at a Wal-mart with the DVDs or Blu-rays that you'd like "converted" for digital cloud storage. You can pre-print a list from Vudu.com or write it up when you arrive. Staff verify the content is available and link the videos to your Vudu UltraViolet account. You get to retain your discs, but to prevent abuse, they're stamped. SD access runs $2, while upgrading a DVD to HD quality is $5.
As it turns out, we just sold our house and, in an attempt to reduce clutter, I'm trashing all my DVD cases. So this seemed like a perfect opportunity to take some titles digital… with potentially better quality than a Handbrake rip would provide. Unfortunately, due to limited studio participation and licensing, less than 50% of my discs quality for "conversion."
I had hoped to blog how great it was to both modernize and upgrade my dusty disc collection via Walmart's Disc-to-Digital. But after an hour at the Walmart, it wasn't meant to be. Not today, anyway. Between the missing stamp, inability of staff to log into the Vudu account, and needing to receive a call back from a different group for further assistance, we couldn't get it done. After a rocky start, I will say the rep tried to be helpful and was quite tenacious – even offering to call me later in the day once she figured it out. But I've let her off the hook. And might try again again later in the week… assuming the stamp has been found and the process has been mastered.