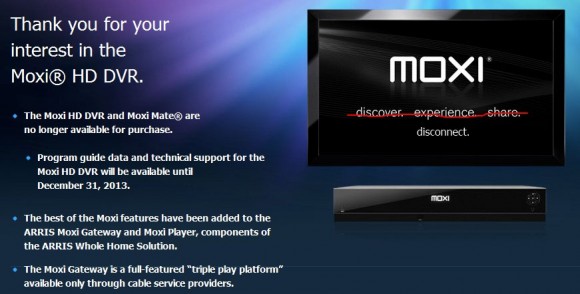 We've followed the retail Moxi DVR story arc for years… and, thanks to ARRIS, we finally know when it inevitably concludes:
The Moxi HD DVR and Moxi Mate® are no longer available for purchase. Program guide data and technical support for the Moxi HD DVR will be available until December 31, 2013.
No real surprise here as there's been very little retail activity while ARRIS instead leveraged their cable partnerships. And I can't say I blame them. If a DVR pioneer like TiVo has a difficult time finding success in Best Buy, a seemingly pricier mail-order alternative wasn't going to fly. It may be the golden age of CableCARD, but the perceived cost and complexity remain major roadblocks… for those that even realize they can acquire a set-top outside their cableco.

But the question remains – how many active Moxi HD DVR owners are there… and will enough hammer ARRIS or sign the petition to force a Replay?
Update: Guess the negative feedback was heard? ARRIS has updated their Moxi site to remove the 12/31/13 date and states, "We currently have no plans to discontinue service."