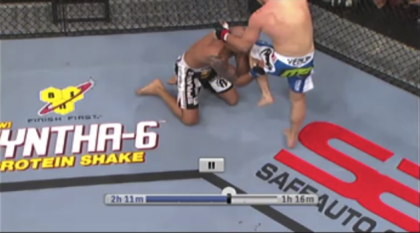 It's been nearly a year since live UFC bouts landed on Roku ($60). And, I have to say, it's a much better experience in 2011 than it was earlier in 2010. From my original coverage (of UFC 113):
Quality was good. But probably not good enough.
Roku is a company I regularly chat with and, at some point last year, they suggested I take another look at UFC as a number of presentation improvements have been made since launch. Our schedules, and coupon codes, finally lined up this weekend… and I took in UFC 127 live.
Whereas I found UFC 113's stream inconsistant and not high enough resolution, UFC 127 was another story. Indeed, a much better story. When initially firing up the live stream, I found myself watching unpleasant smudgy SD video. But after maybe two minutes, I was automatically elevated to what looked like a HD tier. Which is where I remained for nearly the entirety of the matches. At one point, I seemed to drop back down for a minute and at another point it looked like I was hit with some dropped frames. But these minor glitches are acceptable given the 2+ hours of smooth streaming and nice looking video.
Of course, your mileage may vary. Unlike cable company pay-per-view, there are many more variables that may impact your experience by taking video over the top (OTT) – including one's broadband package, ISP connectivity, and home network. Without a doubt, the cableco provides a safer bet. But for those who don't have cable or want to travel with PPV events, Roku is a very solid option for UFC. (Or NHL and MLB.)
As to UFC 127 itself, I can't say it was the most compelling event they've put on. The highlight for me was probably the win by Ebersole, a last minute stand-in from the minor circuits. Yeah, his style was goofy at times, but he showed a lot of heart. Not only did he hold his own against a seasoned veteran, he pulled off a nice upset.
The other notable moments, for all the wrong reasons, came from Bisping's unsportsmanlike conduct. He's a great fighter, but should have been disqualified for the illegal knee (above). The sport is brutal enough without teeing off like that. Hope these guys have long term health insurance…
Click to enlarge: