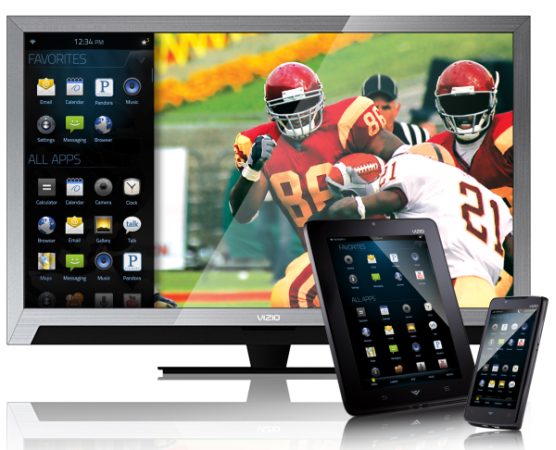 Vizio's begun dropping details on their 2011 lineup, including what could be a defection from Yahoo connected services in favor of Google's broader ecosystem… which corresponds nicely with a Vizio expansion into mobile gear.
This year Vizio Internet Apps (VIA) will become or be augmented by VIA Plus, their take on Google TV. While the Goog's connected television platform is currently pretty rough, it's not a bad horse to bet on. Especially given the obvious Android-powered mobile device tie-ins Vizio's promoting.
Vizio is no stranger to the connected television space, having been the original Yahoo Internet TV widgets pioneer and delivering possibly the first mass market QWERTY remote. In fact, our temporary bedroom television is a Yahoo-powered Vizio and I've quite enjoyed streaming Netflix and Vudu video content over 802.11n… without requiring a separate box.
We'll reach out to Vizio with hopes of clarifying the fate of Yahoo widgetry on their HDTV hardware.