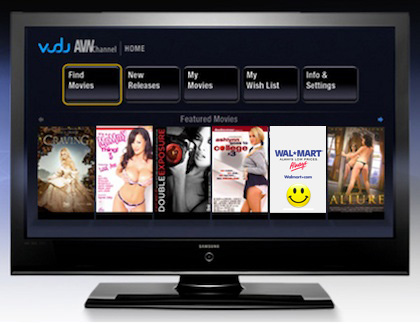 Wow. The rumor was true. Wal-mart is indeed acquiring Vudu. Given their prior failed attempt at digital media distribution and MediaMemo's way-off financing stat, I had a difficult time buying it. But the deal is done – so congrats to the Vudu team.
Vudu's story arc is interesting. From the beginning, and like many, I found the idea of a premium priced, dedicated movie box problematic. And suspected we had another Moviebeam on our hands as Vudu nearly folded late in 2008 when they discovered what most of us already knew. But after a few rounds of layoffs, a new strategy to port the Vudu experience to 3rd party hardware, a press relations agency upgrade, and additional financing, they quite successfully weathered the storm.
With Best Buy embracing TiVo and Napster it sort of makes sense Wal-mart would want a digital distribution partner of their own. Although the investors recouped their cash, consumers probably aren't the big winner here. I fully expect Vudu's AVN channel will be the first thing axed. And Dan Rayburn anticipates the whole enterprise, under Walmart's stewardship, will fail.
I do hope the original stand-alone boxes see one more software upgrade to move them off P2P distribution and onto the CDN in use by all other Vudu devices. Rather than a complete shuttering. Also, in light of the acquisition, my plan to find a deal on a LG BD390 is on hold.