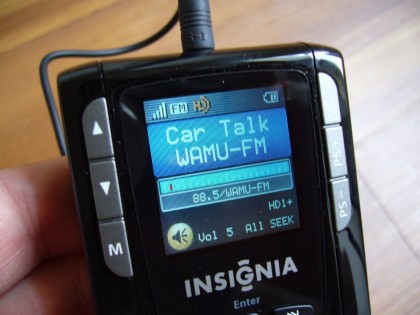 ZNF reader Larry C recently inquired about the HD Radio reception from Best Buy's Insignia NS-HD01 portable ($50):
what is the range of reception – hopefully good clear sound within 50-75 mile radius
And I'd glad he brought this up. Because only after writing my mostly positive review did I learn how bad the HD Radio reception is. It appeared that I had excellent coverage at our old place (DC metro, suburban Maryland), yet I have zero coverage at our new place (suburban Virginia). More importantly, I have no HD Radio reception at my gym. Regarding Larry's specific question, I'm not sure what my actual distance to the transmitters is. But I assume I'm well below even the bottom of his range (50 miles), probably by half. Furthermore, to address a follow-up thought he had, my gym has no large buildings or similar obstructions in the immediate vicinity. So I'm left to conclude this radio just isn't very good at tuning programming. Coupled with horrible earbuds and a requirement to charge the unit via USB, I can't recommend an Insignia HD Radio purchase. Even at a low $50.
However, the NS-HD01 might be worth trying out if you could get one for free… Perhaps there's a firmware update somewhere out there or maybe you can hotwire an external antenna to improve reception. Better yet, maybe you live next door to a transmission tower. Regardless, if you'd like a shot at my HD Radio, simply leave a comment below. (US residents in the lower 48 only, please.) We'll choose the winner at random in a few days.