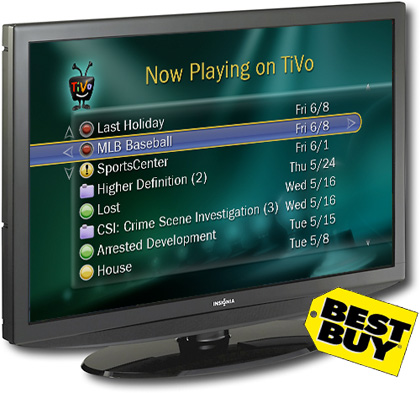 You probably don't remember that Humax LCD TV with builtin TiVo… which never launched in 2005. As a clutter-free minimalist (to the best of my ability), I do. And TiVo's new tie-up with Best Buy indicates they're going down this path again, entering the Internet Widget TV fray under the Insignia brand:
As part of the deal, the companies also said that Best Buy would finance an effort to bring TiVo's software and search tools to Best Buy's own brand of consumer electronics, like its Insignia high-definition TVs.
Of course, there's no timing info. Given TiVo's track record of glacially slow development, I'd say we might see a tru2way television in 2011. If ever. In the interim, Best Buy will heavily pump TiVo in their retail locations while the TiVo service will push Best Buy ads and develop a streaming Napster widget.