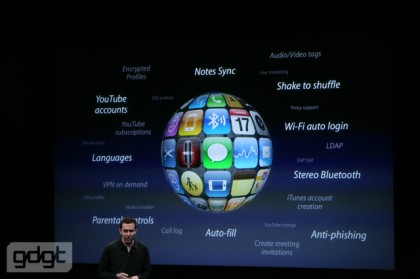 Like many of my fellow geeks, I set aside time today to follow Apple's iPhone 3.0 OS briefing. Former Engadget editor-in-chief Ryan Block retains his title as the live blogging king, and I monitored his coverage on gdgt.com. (I also swiped a few pics for this post, as you can see.)
The first half of Apple's presentation was geared towards developers and hardware partners, introducing support for new payment and device connectivity options. Both of which had me drawing comparisons to Xbox Live. In-game, err in-app, purchases will be supported under the 3.0 OS SDK – allowing the typical items, maps, and expansion packs you'd expect. As explained, it could also permit developers to produce one app to be populated with various content. Such as en e-book reader or metro subway map program. The reintroduced push notification system and new peer-to-peer technologies should also enable a variety of interesting interactions… which, again, had me thinking Xbox Live or Nintendo DS.
The second half of the event focused on all sorts of OS enhancements we owners can look forward to this summer. Many should have shipped earlier (MMS and multiple photo attachments, for example), but their absence probably hasn't impacted sales to any great extent. Finally, the blogosphere can shut up about cut & paste – it's here. As I said in January, it'd be nice to have, but isn't a deal breaker. However, two of my three top current requests didn't make the cut. I'm very pleased to see Apple allow third-party developers to produce true turn-by-turn navigation apps. And when a worthy contender comes along, I'll consider upgrading my first gen iPhone. But I'm disappointed that native voice dialing and better app organization (think: folders) weren't introduced.
Another big disappointment is Apple's continued stubbornness in prohibiting third-party background processes. I understand their position, that they want to protect the experience and what not. But many of us manage to simultaneously run multiple programs on other battery powered devices (laptops, non-iPhone smartphones). Why can't I listen to Slacker and check my email at the same time? Gr. Although, as a consolation, many more SDK hooks into the underlying OS and native apps, plus the push notification system, should alleviate some of the pain. If the developers play ball.
So the big question is: Why hold this event now? I assume it's partially to get folks cranking on new apps (Apple takes a 30% cut of all sales) ahead of the public release of iPhone OS 3.0 this summer. But I also see it as a way for Apple to buy a little time, let folks know they've got some cool, new stuff in the pipeline. (Without pre-announcing new hardware which would kill sales of existing hardware, but it must be coming…) Because Palm isn't sitting still this spring. And they know us early adopters are fickle fans.
Click to enlarge: