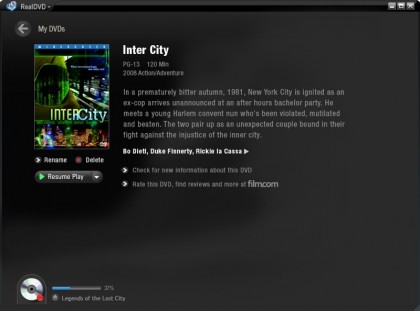 The folks at Real are out with a new piece of Windows software today. RealDVD ($30 and up) rips DVD content to a PC and locks it down within their interface. Leading them to repeatedly emphasize the legality:
Save your movies legally, and with confidence
And it's completely legal.
Totally legit. RealDVD is 100% legal, so you can save movies with confidence.
Despite Real's marketing language, the New York Times (via Ross Rubin) indicates they don't have an agreement in place with the DVD Copy Control Association (who have appealed the Kaleidescape ruling). Though Real's solution looks similar in practice to previously demo-ed HD-DVD (RIP) Vista archiving, I imagine the powers that be would want to vet or provide the protection scheme. And maybe take a cut of royalties. I also wonder if Real's waiting for an industry response… the announcement and site are available today, yet the software isn't.
In the end, it may not matter whether RealDVD survives (or even launches). The majority of folks savvy enough to contemplate archiving DVDs have probably already discovered methods that incur no additional DRM. (I use Handbrake on Mac and FairUse on PC.) DMCA or not, I doubt any individual consumer would end up facing consequences in ripping DVDs for personal usage – assuming they steer clear of file sharing networks.
Update: Real's rep says they're legit since they don't break any encryption and are "a licensed member of the DVD-CCA."