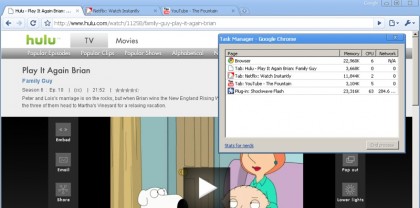 Anyone who follows tech news has already read that Google's launching a new web browser today. While it's way too early to pass judgment on a beta product, other than to say they'll have an uphill battle in securing marketshare, I've gone ahead and tested a few media-rich sites. XM's online guide and music streaming work fine. As do Flash-based YouTube and Hulu video playback. Though Netflix Watch Instantly throws up an incompatible browser error. Which doesn't necessarily rule out eventual support for Microsoft DRM… but I wouldn't bank on it in the near-term. Related, good luck finding a Microsoft Silverlight plugin – no NBCOlympics.com for you. Any other successes or failures we should know about?
Update Google documentation indicates broader plugin support. It's probable web pages like NBC Olympics are hardcoded for specific user agent strings, thus preventing recognition and playback. Instead of reinventing the wheel, has Google leveraged existing Mozilla/Firefox plugins?
Currently, Google Chrome supports the most popular plug-ins necessary to display the Web correctly, including Flash, Acrobat Reader, Java, Windows Media Player, Real Player, QuickTime, and Silverlight.