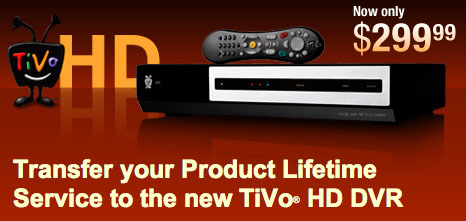 In time for the holidays (yet prior to the real shopping season), TiVo pulls the trigger on a promotion many folks have been eagerly awaiting: Transfer Lifetime Service onto a TiVo HD… for $199. At the end of the day it may not be a bargain but, if you plan on holding onto the THD for some time, you'll come out ahead (though SDV issues loom). The fine print:

Offer permits the transfer of an eligible (as defined below) Product Lifetime Subscription for $199 plus applicable taxes only to a new TiVo® HD DVR purchased from www.tivo.com/HDservicetransfer between October 11, 2007 to November 8, 2007 (a "Qualifying DVR")
Product Lifetime Subscriptions eligible to be transferred to a Qualifying DVR pursuant to this Offer must be (1) activated prior to October 1, 2003 and (2) not have been previously transferred pursuant to any prior transfer offer from TiVo.
Given the activation date requirement, I'm not sure how many people this really applies to. But the lucky ones also get a year of service on their old TiVo rolled into that $199 fee. Before TiVo drops the MSRP on the TiVo HD ($299), perhaps they'll reach out to the larger number of Series2 Lifetime owners with a similar offer. But don't expect it during the brisk holiday shopping season.
(Thanks for the email forward, Tim!)