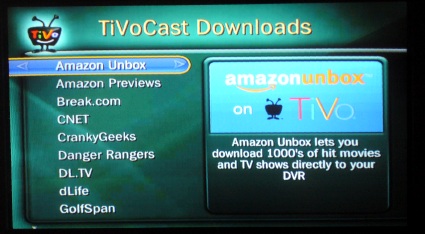 Amazon Unbox ordering has finally landed on TiVo. (Never mind that false alarm last month). The TiVoCast Downloads area is listed as "Download TV & Movies" (how exactly does that describe the web video?) and houses Amazon Unbox along with other downloadable content.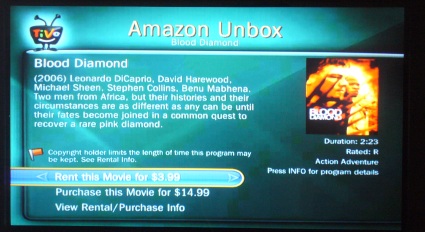 The Unbox application includes the most downloaded and newest videos which, I assume, does not represent the entire catalog. I'd like see them add genres and alphabetically organize the content. I'd also appreciate being able to see my rental history.
While I find Unbox unwatchable on my 16:9 living room HDTV, we really enjoy it on our 4:3 bedroom SDTV. Especially those 99 cent weekend move rental deals. I'm not sure if I'll use the on-box ordering though… given movie playback is not instantaneous. Also, I'm currently overpaying for Season 2 episodes of Weeds – but they don't appear under "Top TV Shows."
UPDATE: Looks like I can find Weeds via Swivel Search and I just tried ordering an episode… But it appears I set up a 5 digit pin – which I don't remember. It can be recovered or reset by keying in my email address via remote, but searching and purchasing from Amazon.com seems more efficient.
(Thanks, Peter W!)