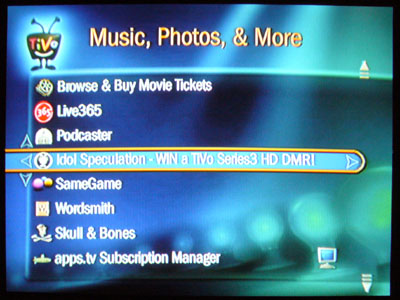 TiVo is running an American Idol contest over the next 11 weeks — each week you vote who's going home. That's all well and good… but the real interesting news is that in 11 weeks they'll be giving away a Series 3. Though TiVo officially has up to four months beyond the sweepstakes to deliver.
So speaking of worshipping that false idol, we now have a little more info to base our speculation on. I'll go first… Series 3 HD will be available 9/1 @ $800 a pop. What's your guess?
Update: This is now a contest! Predict the Series 3 release date and cost to win a TiVo-branded wireless adapter. Details are in the comments.
Grand Prize: 1 Special Limited Edition TiVo Series3 HD Digital Media Recorder w/Product Lifetime Service
Average Retail Value: $1,500.00

Selected entrants will receive the the weekly prize by mail within thirty (30) days of the Weekly Sweepstakes end date and the Grand Prize by mail within four (4) months of the end of the Sweepstakes Period (exact timing subject to change based upon availability of Grand Prize, which is scheduled to be released for public sale in the second half of 2006).