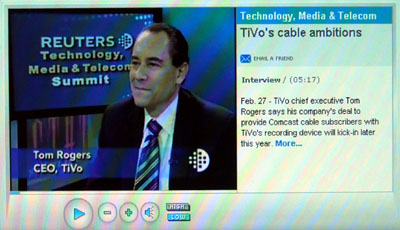 Reuters is running a juicy 5 minute web interview of TiVo CEO Tom Rogers. The reporter does a nice job in understanding the issues and asking Rogers the tough questions. If the business side of TiVo interests you, check it out!
Here are a few highlights…
"Having a DVR is not having a TiVo."
Several new value-added features will be unveiled in the next 3-4 months to further distinguish TiVo from a generic DVR.
DirecTV may be responsible for about 2/3 of TiVo subscribers, but 85% of their revenue comes from other sources.
TiVo-enabled Comcast service is expected late this year.
Existing Comcast boxes can be upgraded via a software "burst."
TiVo is in discussions with other cable operators.
(thanks Pete!)