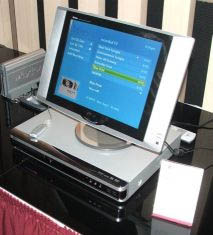 LG's previously announced and demo-ed Microsoft-powered DVR is now available at your local big box retailer. We can all agree ReplayTV is no longer a threat to TiVo's stand-alone business, but a major play by Microsoft is interesting. In theory, competition is good for innovation and keeping prices reasonably low.
The DVR has some nice features including a beefy 160GB hard drive, USB ports for external drives, a 90 minute buffer, DVD burning, and the ability to playback PC-based audio and pictures. Additionally, MCE owners have the ability send video, audio, and pictures in either direction. To get folks on board Microsoft is offering $100 off of the one-time subscription option.
LG says: The world's first dedicated "digital media recorder" with the Microsoft Program Guide service is now available at leading consumer electronics retailers nationwide, LG Electronics announced today. The LG LRM-519 Digital Media Recorder is a combination digital video recorder (DVR) and DVD recorder powered by Windows Media Center Technologies with a 160-gigabyte hard drive for unparalleled recording flexibility. Creating a new industry product category and taking home theater digital convergence to the next level, the LG LRM-519 has a manufacturer's suggested retail price of $599.95. The Microsoft Program Guide service is available through three subscription options: a one-month subscription for $9.99, a one-year subscription for $99.99 or a one-time subscription for $249.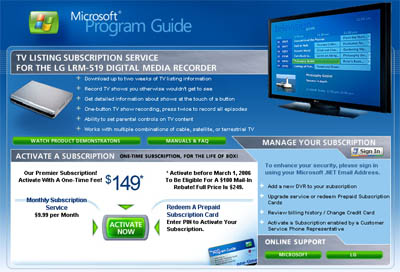 (Photo graciously provided by Engadget)