Archives For Deals
Woot's clearing reburb first generation TiVo Minis, once again, for a compelling $70. As a refresher, the TiVo Mini extends a TiVo Premiere, Roamio, or Bolt to another TV in the same home – both live television and DVR recordings, carried via Ethernet or MoCA. And the primary, noticeable distinction of this original TiVo Mini, vs the current model (MSRP $130), is inclusion of an IR remote. So you can't easily hide the extender inside a cabinet, as you can with the RF remote capabilities that ship with v2.


(Thanks Greg P!)
While it may be a few years before we once again "watch TV", my new blessed reality clearly hasn't slowed me from acquiring gadgets. So, although I missed out on Target's limited Black Friday inventory, I just ordered Apple TV on sale from… RadioShack's zombie corpse. This $120 deal drops $30 off MSRP and bundles an HDMI cable of unknown length and provenance.
Of course, what sets the new Apple TV apart from its predecessors is a full-fledged and open (vs curated) app store along with a premium touch sensitive remote that also sports Siri voice control. Apple offers both 32GB and 64GB models, but the extra space doesn't yet seem useful and the 32GB is probably suitable for most… for now. The Roku 2 (2015) is still the streamer I most frequently recommend given the broad app selection, simple but efficient interface, at a very attractive price point ($60-70). However, until or unless Roku migrates their platform to Android, Apple TV and Amazon Fire TV offerings will potentially be richer and more capable.
(Thanks Bryan A!)
Giving or getting a Roku this Christmas? The streaming pioneer has lined up an impressive array of free trials. Some of the more compelling offerings:
Hulu – 3 months free
HBO Now – 1 month free
Netflix – 1 month free
Showtime – 1 month free
CinemaNow – 3 movie rentals

Some of the promos, like Netflix can be applied to (certain) existing accounts, whereas Hulu and HBO require new identities. But while the terms may slightly vary, the bottom line is you're going to need to link up a Roku account with your credit card and remember to cancel any subscription before the trial is up. Unless you're so enamored with the service you choose to carry on — which, of course, is their hope.
Having recently outfitted both our kitchen and guest bedroom with 32″ Roku TVs, I took advantage of the Hulu trial. Despite the commercial interruption, we thoroughly enjoyed the first season of Manhattan and are currently bingeing the Hulu-original Casual. We have until 1/16 to activate any of the others before the promotion period expires… and it sounds like I'll want to catch up on new seasons of Showtime's Homeland and The Affair.
I'm always on the hunt for a good deal, but this time of year is especially frenzied. So I've got my wishlist ready as I dutifully monitor my overflowing inbox and Slickdeals app while I access sites through ebates for some additional cash back. Some early catches…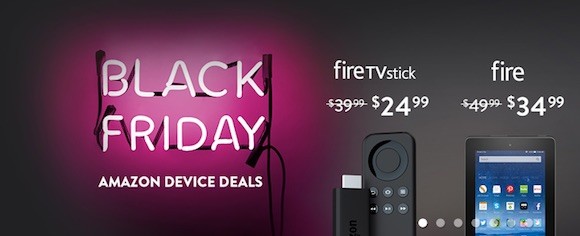 Amazon Fire TV Stick @ $25 – Cheaper than the Roku stick and still preferable to the new Chromecast given a physical remote control. Provides many of the top streaming TV apps, plus a TiVo client, and supports guest/hotel WiFi connections. Great for yourself and also a nice stocking stuffer.
Amazon Fire Tablet @ $35 – Not a good tablet by any measure other than cost. Unless you're a small child or senior citizen, at which point this 7″ 2015 model might be an interesting gift idea for casual web surfing, video playback, or Kindle reading.
32″ Roku TV @ $125 – Budget friendly, 720p television with Roku built right in. It's a little chunkier than you might like and not the highest quality panel. But it's dirt cheap and great for a kitchen or guest bedroom — where I keep the two I own.
ecobee3 + 3 sensors @ $250 – I'd have preferred a lower price of entry for this smart thermostat, but two free remote sensors provides solid savings if you can put them in use. On price alone, a better deal can be had on the 3rd gen Nest ($250 plus $50 gift card), but I prefer ecobee's approach.
Ooma with wireless adapter @ $90 – Stick this on your home network, as I do, and plug your phones in for unlimited US calling. The bonus wireless adapter lets you place the VoIP box anywhere in your home and also lets you link your cellphone over Bluetooth.
30% off one Book – Both Amazon and Barnes & Noble are offering 30% off any book via the linked coupon codes. I put the Amazon discount to work and discovered it's limited paper books and maxes out at $10 of savings but does apply to pre-orders.
Find anything good? I know there are tons of big screen deals to be had…
Those looking to stream live and recorded TiVo Bolt, Roamio, or 4-tuner Premiere video to other televisions around the house have a nice deal to contemplate today… As Woot's offering up the first gen TiVo Mini is on sale for a low $70. Sure it's a refurb that only ships with an IR remote (versus RF on the latest model), but this minimal expenditure adds a whole lot of value to existing TiVo households – as it also includes Lifetime Service.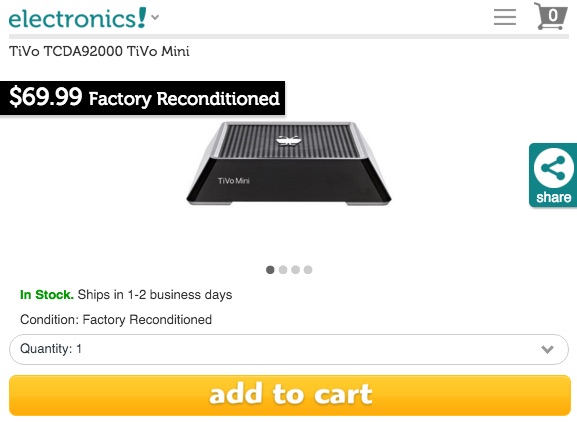 In fact, I'm tempted to add another as we set up our guest bedroom. While we're not wired for Ethernet at that location, our networking needs would be covered by the Mini's integrated MoCA capabilities using the existing coaxial outlet. However, integrated WiFi would make Mini infinitely more flexible and I keep holding out for a Verizon FiOS Roku app. Looks like I have about 8 hours to decide…
(Thanks Elias!)
New e-commerce site Jet.com is attempting to attract customers with a generous 20% off coupon code – and I took the bait.
I assume there are many good deals to be had, but one in particular caught my eye. I've been looking to retire an awful 22″ Vizio television in favor of something a bit more modern. And, while I'd prefer 1080p, this 32″ TCL Roku TV ran me less than $160 – no taxes, no shipping fees. Which is pretty crazy when you stop to think that a Roku Stick alone runs about $50. (For something a bit beefier, one pal went with the 1080p 40″ Roku TV at $240.)

Jet doesn't actually stock some (or any?) of its inventory, with orders fulfilled by other retailers. In my case, the television was shipped by Electronics Express and will arrive tomorrow.
Anyone else see some good finds on Jet we should take advantage of. And I mean that quite literally. ;)
The already well-priced Amazon Basics HDMI cables see a discount today. They're rated for the 1.4 spec – supporting 4k and ARC. And should be fine with everything else as well. The cables come in various lengths, ranging from 3′ to 25′ and I was motivated to pick up four more in a 3′ pair and a 6.5′ pair.