A new SimpliSafe "smart alarm wireless indoor camera" (CM006) has just passed through the FCC … and I belive I've discovered corresponding visual evidence within the SimpliSafe Android app. As the above, unknown device certainly appears to feature a camera lens.
Given the physical dimensions, one might also assume this camera houses a battery — which would be an indoor first for SimpliSafe, facilitating additional camera placements. And the FCC test report does indeed confirm the presence of a 4.2V Lithium battery, along with a microUSB connection, for charging or a presumed permanent AC connection. However, it's unclear if the battery is removable like the SimpliSafe outdoor camera.
SimpliSafe's original indoor camera wasn't really notable, other than the electronic shutter lens for enhanced, on-demand privacy. Whereas this new camera, which could be a replacement or a higher-end option, seems to pack additional sensors/capabilities along with an additional wireless protocol. The existing indoor and outdoor cameras, only communicate via 2.4GHz WiFi. Whereas the new Smart Alarm SimpliSafe camera includes the company's traditional RF band to communicate device info back to the SimpliSafe base station (which is also getting the most minor of refreshes) and has a number of interesting cutouts. I'm thinking something like IR or PIR motion alerts. Could also be environmental stuff, who knows.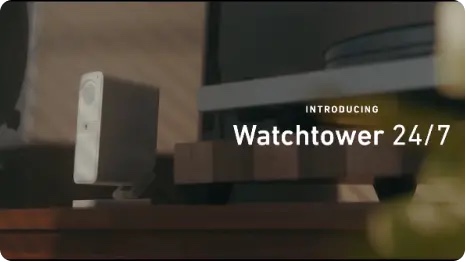 In addition to these speculative, expanded sensing capabilities, the new SimpliSafe cam is being advertised with "Watchtower 24/7". While the device itself could be called the Watchtower (given its more vertical stature), I believe this to be a monitoring solution – possibly a rebranding of "Fast Protect" or an expansion of "Video Verification" by SimpliSafe's call centers.
No information is available as to timing and pricing. However, SimpliSafe has previously made product announcements in conjunction with CES… which is just two weeks away.