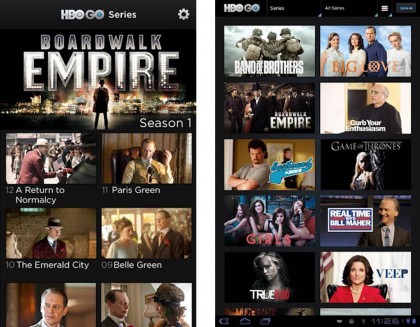 HBO may be making it harder to transfer shows from TiVo hardware, but it's expanding users' other mobile options with the HBO GO app. Time Warner Cable let the cat out of the bag in a blog post stating that HBO GO would be available starting today on nearly every Android device, and the updated app's arrival in the Google Play store confirmed the news.  (Hat tip: Richard Lawler and Engadget) Supported OS iterations include Ice Cream Sandwich, Honeycomb, and most versions of Gingerbread. (No Jelly Bean yet) Supported hardware includes phones and tablets with screen sizes anywhere between 3.5 and 11 inches.
It may seem odd that Time Warner Cable is touting HBO's news, but given that the cable operator was one of the last to make a deal with the cable network in January, it's likely trying to make up for lost time with subscribers. Meanwhile, on other mobile fronts, Time Warner has been more of a pioneer. The company was the first cable provider to stream live TV to the iPad, and it added Android support for live streaming in April. The live video feature is limited to your home broadband network, but we remain hopeful that retransmission negotiations will change that restriction in the not-to-distant future.
Meanwhile, HBO Go continues to gain momentum even two plus years after launch. Once again the programmer proves that content is still king, no matter what how the distribution channels change.