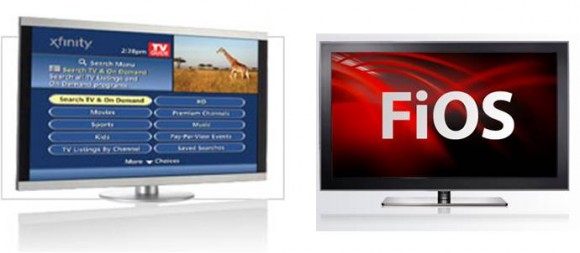 I am on the verge of a move to Takoma Park Maryland, and being the cable geek that I am, one of the things I cataloged closely during the house hunting process was the variety of set-tops in living rooms around the region. Not that cable services were a factor in choosing a place to live (they weren't, I swear!), but it was still worth a note to see what broadband provider might soon be receiving a portion of my monthly paycheck.
As it turns out, both Comcast Xfinity and Verizon FiOS are available in Takoma Park. Currently I'm a Comcast customer, and there are certain advantages to sticking with my existing provider, but the prospect of switching to a fiber-to-the-home service is just too tantalizing. Here's my personal list of top pros and cons for the two megaliths of broadband service. Keep in mind this is far from a comprehensive list of features, but it's the stuff I care about most.
Comcast
Pros:
I haven't had a single Internet or pay-TV outage (in PA) in six years of service
There's a huge VOD catalog, including lots of free TV
The A28 guide makes it relatively easy to manage my DVR
Comcast's free Wi-Fi hotspots are convenient
Cons:
Internet speeds are fine, but sometimes degraded – standard tier ("Performance") is 12 Mbps down and 2 Mbps up
Price is high as a current customer (no new-customer deals)
Verizon
Pros:
No contract required for bundled TV and Internet service
Standard tier is 15 Mbps down and 5 Mbps up, with a promise of greater consistency
IMG 1.9 guide update is on its way (see advantages here)
Access to the WatchESPN iPad app for live sports
Verizon has a lot of IP-based goodies on the way, and a track record of aggressive innovation in the TV space
Cons:
I can't choose my own router
No Wi-Fi hotspots in the area
Interestingly, from an industry perspective, I see a lot of good things on the horizon for Comcast. Whether or not you agree with their business methods, the company has proven very savvy in a market that's changed radically in the last five years. And by embracing IP, Comcast is creating interesting opportunities for the future.  I want a chance to try out FiOS, but that doesn't meant I won't continue to keep an eye on Xfinity.