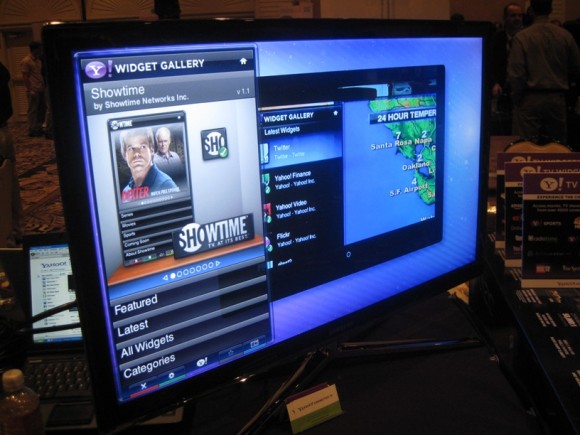 Alright, I'd admit that headline is a bit of tease, but it certainly seems possible that we could see Yahoo Connected TV widgets on Roku boxes (and lots of other hardware) in the next few months. I talked to a Yahoo spokesperson at Digital Experience last night and heard some impressive updates on the Yahoo Connected TV initiative. Dave was intrigued by Yahoo's widgetized TV demo last year, but we've heard of minimal updates in the last twelve months. Now comes a slew of news from the former king of Search.
First, Yahoo is adding partners left and right to bring its Widget Engine to more devices. Hardware highlights include new Vizio XVT Series HDTVs, which will be available with the Widget Engine in Q1, the ViewSonic VMP80 media player, also due out in the first quarter for an estimated $159, and new partnerships with MIPS technologies and Sigma Designs, which "will enable manufacturers to easily support Yahoo Connected TV  in a wide array of consumer electronic devices, including Blu-ray players, network players, AV receivers, and cable IPTV set-top boxes." My new friend Roger from Yahoo would not confirm that the new software partnerships would bring Yahoo to the Roku specifically, but he did say Yahoo widgets would be on "Roku-type" boxes, and that devices already in the field could be updated remotely to get the Yahoo experience.
Also new from Yahoo, you can now create your own TV widget to show up in Yahoo's Widget Gallery. Yes you, consumer end-user person. By partnering with Widget Realm and Brightcove, Yahoo is offering a simple way to design your own app and make it available to the masses. As of 6:00 this morning, you can go to Widget Realm and become a de facto Yahoo developer. I can't wait to try this one out myself.
Finally, Yahoo has announced new content partners for its widget platform. Joining brands like CBS, Showtime, and Blockbuster are CNBC, NBC.com, Napster, Sky News TV, the Weather Channel, and more. This is one to watch in 2010.