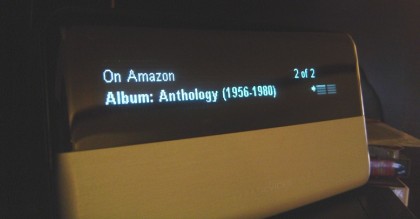 The Squeezebox I got for Christmas two years ago is the gift that keeps on giving. Logitech announced a firmware update earlier this week, and I finally got around to trying out the new features this morning. My favorite is a new link under the Internet Radio menu for local stations. Using my IP address, the Squeezebox gives me a line-up of local radio stations available online. Virtually anything I can get on an FM radio I can now get just as easily through my Squeezebox. No searching around. See WXPN, click on it, and listen to the live stream. The Squeezebox even has the stations listed in order by their place on the dial.
The firmware update also adds functionality for putting full music albums in your Amazon shopping cart. Click the "On Amazon" option for the artist you're listening to, scroll for the album you want, and click "Add Audio CD to Cart". It doesn't look like you can can purchase individual songs yet, but I'd be very surprised if we don't see that in a future software release.
Other improvements from Logitech:
Support for Deezer music service in the United Kingdom, France, and Germany
Music Stores menu has been added to the Home menu, allowing you to browse and search the Amazon CD store by artist, genre, or most popular in the US, UK, Canada, France, and Germany
Improvements have been made to the Player sync UI
Streamlined Internet Radio menu with direct access to Local Radio, World Radio, and other options provided by Radiotime
Improvements have been made to player sync, track cross-fade on synced players, gapless playback when synced, stream drift has been reduced and overall reliability has been improved
Support for Nordic languages (Norwegian, Swedish, Finnish, Danish) has been added
Improved SqueezeCenter installation and setup
Numerous bug fixes
Still looking for a holiday gift? I highly recommend the Squeezebox. And there are several versions now too, including the Squeezebox Duet with sexy remote and the Squeezebox Boom with speakers.