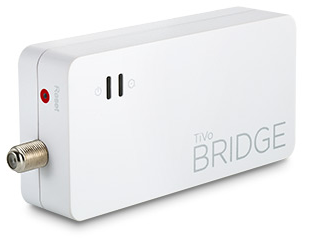 As we ponder an uncertain TiVo retail future, the non-DVR company ;) is now selling a MoCA bridge ($80) to wire up multi-unit households that don't have Ethernet colocated with their hub.
You will need one TiVo Bridge Adapter if your DVR cannot use a wired Ethernet cable to connect to your home network. If your DVR can use a wired Ethernet connection, you do not need TiVo Bridge; just connect a coax cable to your DVR, and you're all set!
The TiVo-branded (Actiontec) adapter was originally unveiled at CEIDA last fall but is obviously available to both integrators and customers alike. As a FiOS household, running Verizon's mostly sufficient router, my coaxial cable is already lit up for networking and works well in a Roamio+Mini configuration.