Archives For Web
Hulu just overcame one of its two biggest shortcomings in launching an ad-free tier. Whereas the Hulu we know and rarely love runs $8/month, the new offering clocks in at $12/month. I'm certainly willing to pay more for video streaming without commercial interruption, but I wonder if Hulu is 30% better than Netflix – which runs $9/mo for new customers. Sure Netflix has lost EPIX to Hulu, but they're firing on all cylinders in regards to producing compelling original content and exclusively licensing some hidden gems. Beyond advertising, Hulu's second significant shortcoming has been a large number of incomplete series/seasons. Not sure how the catalog looks these days but, given this new subscription option, I'm finally willing to take a look. Just as soon as the incoming TiVo app update hits…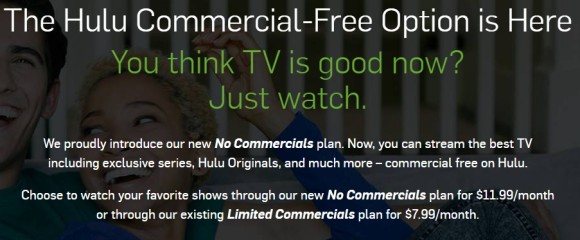 While I agree that tweets are largely ephemeral in nature, I appreciate my Twitter archive as a historical record and have no desire to join the ranks of the tweet-deleters. Yeah, I'll delete the sporadic nonsensical, knee jerk, repetitive, or unfunny contribution. But I generally enjoy keeping my old stuff around. Exponentially so, as a blogger and since Twitter introduced native photos and video. However, Favorites, I just don't get. I often star other's tweets as an acknowledgement that I've read their 140 character note or as an 'atta boy' of sorts, if something is especially compelling — in which case, maybe I should have solely retweeted it to benefit my followers. Having these Favorite emoticon acknowledgements preserved for posterity seems like an exercise in noise, clutter, and perhaps misrepresentation. So I set out to delete the 8148 "likes" that I've anointed over the years.
No surprise: Twitter provides no mechanism to get this done. Fortunately, I stumbled upon Unfavinator which is the first and most important step in clearing the cruft. Continue Reading…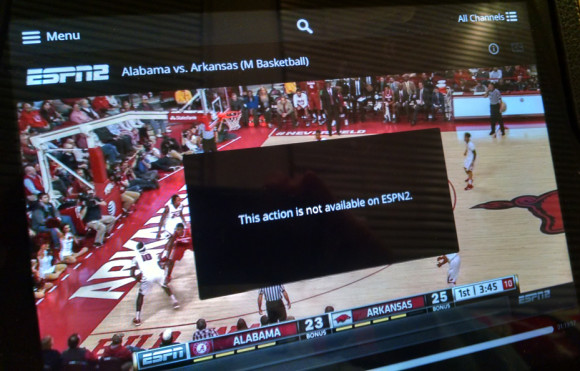 Many, many other writers have reviewed Sling TV (the new online video service from Dish that was announced at CES), so I won't belabor the points they've already covered. There are licensing issues. Not all features are available on every channel. It'd be nice to have more on-demand television content instead of mainly VOD movies.
But, on the other hand, ESPN is pretty great (plus Disney, HGTV, etc.). And any-screen access for live TV is a plus.
What struck me about Sling TV, however, is how much it doesn't feel like TV. It feels like Netflix.
Because one video stream is never enough, a start-up company called 4SeTV is planning to introduce a $99 retail box that lets users display up to four TV channels at once on one screen. The company is launching a Kickstarter campaign for the device on August 19th, but it's also making the rounds with cable operators to see if there's any interest in tying the hardware to a subscription service. Calling its product "the industry's first personalized mosaic mode device," 4SeTV says its technology works with both cable stations and over-the-air broadcasts.
The hardware part of the 4SeTV product is a small box that connects to your home router and an HDTV antenna. (Presumably the box can also be connected to a cable set-top.) You control the video interface through a mobile app, and then have the option to cast it to a networked television set. The company says the software will work with Internet-connected TVs, but also with the Google Chromecast.
I can think of very few occasions where I'd want to watch four different channels at once. But pick your favorite sports season and maybe there are enough times when multiple games are on to make mosaic mode worthwhile. For more info, check out the 4SeTV demo video. Continue Reading…
To generate awareness during the San Diego Comic-Con, Marvel Unlimited has gone on sale — 99 cents for a single month. While not quite "unlimited", the subscription grants your mobile devices access a large catalog of digital comics. Having previously used the service over a year, I'd say the iPad provides the best reading experience and I found the content to be Hulu-esque given a rotating and incomplete selection. But, hey, at 99 cents it's surely worth (another) look! I assume we'll be on the hook to cancel prior to a recurring $10 monthly fee kicking in… if the value isn't there. Continue Reading…
Microsoft OneDrive iconography will shortly be refreshed, if this trademark filing is any indication. Alternatively, Ed Bott wonders if this logo might represent a subset of OneDrive functionality – perhaps hybrid clouds, for example. Building upon the existing OneDrive logo, the three-bump background cloud is replaced by a stylized two-bump cloud profile network cable moving from background to foreground, better visualizing a virtual storage service. This follows (forced) re-branding from "SkyDrive" along with a massive storage increase for Office 365 subscribers and updated mobile apps as they attempt to expand their footprint and woo folks, such as myself, away from Dropbox and Google Drive.