Archives For TiVo
Nearly a year after TiVo brought video streaming to Android, the DVR pioneer has just followed up with video downloads for offline viewing — finally putting the app on par with iPhones and iPads, perhaps even exceeding iOS given cellular capabilities. As TiVo is quick to caution, the recordings you'll have access to are determined by your carrier's relationships with the studios (real or perceived, right TWC?). As a FiOS customer, nearly everything is available to me (other than HBO and Fox properties) … although having requested higher quality downloads, as illustrated below, not enough time has elapsed for me to actually sample and report back on TiVo's latest video goodness.
TiVo Roamio Pro and Plus owners, such as myself, have these capabilities built-in. Whereas Roamio OTA, Roamio Basic, and Premiere DVR owners, will need the TiVo Stream accessory to beam their content around. Presumably, TiVo will simplify things with the upcoming Bolt line and I'm hopeful all models in the new lineup with feature mobile access … and more.
(Thanks Dan!)
While much is gained in "going TiVo" most lose access to their cable providers large library of On Demand content. Despite the cableco often crippling transport controls in such a way that we're forced to view commercials, On Demand provides all sorts of good stuff we may not have known to DVR. Not to mention, many with children seem to swear by this catalog.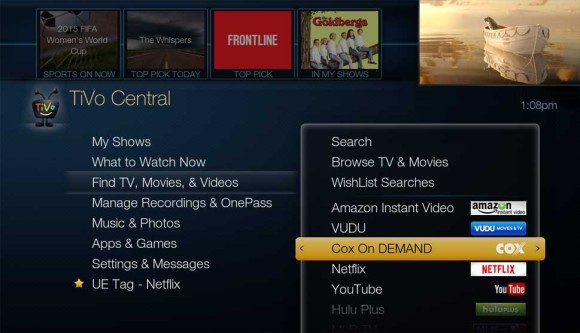 So it's pretty significant when a large cable provider strikes a deal with TiVo to bring On Demand to a retail-purchased DVR. Comcast led the way and now Cox has similarly implemented a back channel method of serving up video on demand … as we had foretold and to the tune of 18,000 titles. Initial Cox markets to receive On Demand via TiVo are located in southern California and Las Vegas, with all of Cox expected to be covered by the end of the year — a current list of cities and zip codes can be found here.
As we continue to track the unannounced TiVo Bolt, we can now confirm the Roamio-replacement will feature 4k support. What my industry source couldn't tell me is if this applies to all models and what it might do to hardware cost. But it'll be quite impressive if TiVo beats both Apple TV and Roku to 4k. Of course, the real world value (in 2015) is debatable with only a subset of potential customers possessing a UHD set and a very limited amount of 4k content from the likes to Netflix and Amazon. Not to mention, many of those aforementioned 4k sets possess their very own Netflix and Amazon apps… although there are those who swear by TiVo OnePass.

Timeline:
As TiVo Bolt nears release, the clues continue to trickle out. Most recent is an FCC filing that identifies three models. As two of those very same three DVR units appeared in a CableLabs certification report, it seems safe to speculate that we may be looking at two CableCARD models and one over-the-air "Aereo Edition" Bolt. By comparison, there are currently four Roamio SKUs… two of which don't actually "roam." Beyond standard DVR capabilities, might this TiVo shortcoming to be resolved with all Bolt models optionally streaming video to smartphones, tablets, and perhaps other end-points down the road?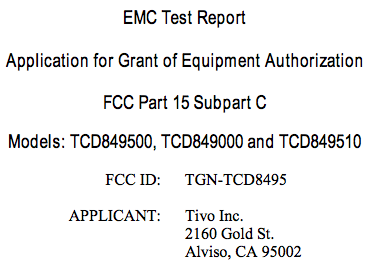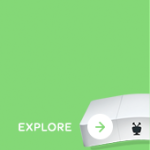 From the little we've seen thus far, TiVo appears to have done away with the traditional set-top box enclosure (as they did away with their in-house industrial design team). And not only may the Bolt be white and curved (?!), thanks to the FCC filing we also learn the Roamio replacement clocks in substantially smaller than existing hardware — to the tune of 40% less volume (according to one forum member's math).
While we generally caution against purchasing hardware soon to be replaced, this TiVo promotion deserves special consideration if you're in the market. Purchase a four-tuner Roamio OTA or a refurb Roamio, capable of handling OTA or CableCARD tuning, for $50 direct from TiVo and get Lifetime service for a highly compelling, extremely discounted $250.

It's really quite the deal. However, the TiVo Bolt could be just weeks away… and we do anticipate it will replace the Roamio. As to DVR differences, it's safe to assume a modest bump in specs and the possibility of integrated Stream capabilities. So if beaming live and recorded video to mobile devices is on your wishlist, it may be worth waiting for the Bolt with less favorable pricing.
As cable providers examine technological enhancements to reclaim and more effectively manage their finite network throughput, they've dabbled in both MPEG-4 encoding and Switched Digital Video. Whereas SDV manages tuning in a more efficient manner, modernizing from the MPEG-2 format results in fundamentally smaller video. And Comcast, the nation's largest cable operator, will imminently flip the switch to MPEG-4 in some Georgia and California markets.
For customers running newer cable boxes and DVRs, the transition should be seemless. However, folks on older hardware will need to swap boxes. Those with Comcast gear need merely walk into the store to receive new Xfinity equipment or even arrange it online. But for TiVo owners, the inherent risk in purchasing retail cable hardware manifests…
Series3/HD: IMMEDIATE ACTION REQUIRED! These DVRs will lose everything except local HD channels. All other HD cable channels will be incompatible.
TiVo has never disclosed model breakdown, but I'd guess 20-30% of their active DVRs are Series 3 and TiVo HD CableCARD variants. And, thus, if they had an easy fix to provide MPEG-4 compatibility to this generation of hardware they'd surely implement it. Especially given Comcast's expected nationwide transition, ramping up towards the end of this year. Further, at some point, we fully expect Verizon to follow suit with FiOS – who's also had a small number of MPEG-4 channels in the mix for a while.
UPDATE: Good news – TiVo retrofit HD units for MPEG-4.