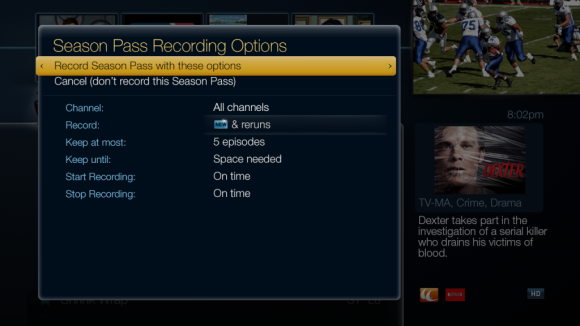 TiVo's Fall Update has begun rolling out – with TiVo Roamio, Premiere, and Mini boxes on the priority list slated to receive software version 20.4.4 as early as last night. Deployment is expected to conclude in a few weeks. Package highlights:
Record series on all channels
Extended timelines up to 6 months for Season Pass recordings
Updated HTML5 Spotify app
New Home Shopping Network app
On the surface, this isn't so interesting (and I say that as a Spotify subscriber). Although tracking down Season Passes outside of the 14 day window will come in handy for many. Including TiVo themselves when customers (no longer) migrate busted SPs to new DVRs. However, behind the scenes, this update lays the groundwork for Roamio Android streaming to debut towards the end of the month – finally! Further, based on VP Margret Schmidt's release notes, it appears Amazon Instant and Vudu apps are tentatively scheduled for a late November update. 2014 is certainly shaping up to be a great year for TiVo owners.