Archives For Placeshifting
Another day, another interesting trademark to mull over. And like TiVo Bolt, we don't have much to go on here with Echostar AirTV.
Computer hardware and software for streaming audio and video content to a variety of network devices, namely, personal computers, mobile phones, tablet computers and stand-alone hardware decoders
So it sounds a lot like Miracast screensharing, versus Chromecast beam and control. Could this be something offered by sister company DISH Network or might there be some interplay here with Echostar's very own Sling Media Slinbox group? Hm.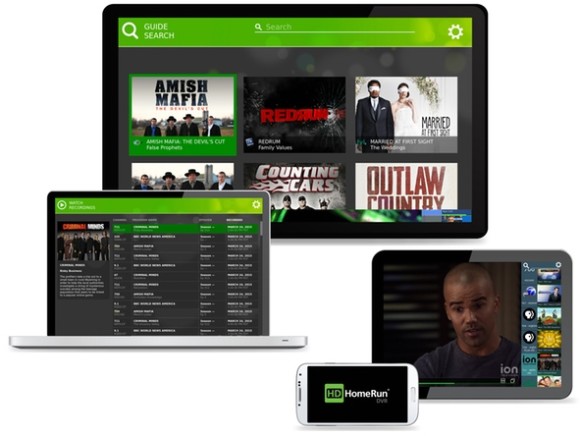 As with Pebble, Silicon Dust has leveraged Kickstarter as a marketing tool and storefront, versus a startup fundraiser. And they're now accepting preorders for their upcoming HDHomeRun DVR software and service. Basically, the new DVR experience will leverage existing HDHomeRun networked tuning hardware and a QNAP NAS, Western Digital MyCloud NAS, or computer for storage. The headless approach is not new (in fact, they pioneered it) and similar in concept to Tablo, yet instead of requiring USB-attached storage, your hard drive can live elsewhere on the network. Also, unlike Tablo, HDHomeRun offers both over-the-air (OTA) and CableCARD tuners… making this a whole lot more versitile for those of us unwilling to cut the cord. Given the sunsetting of Windows Media Center and the hot mess that is Simple.TV (powered by SiliconDust), it's not so surprising they would venture into software and services to round out their offerings.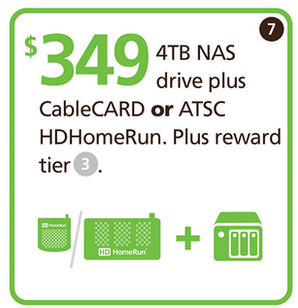 Early adopters who already sport the requisite hardware can access HDHomeRun DVR software and a year service for $30, one month before the general populace – perhaps as early as June. However, Silicondust is also offering quite a few bundles should you require tuners and/or network storage. Beyond the tuner and NAS/computer software required to power the DVR experience, Silicon Dust will also make Windows, Mac, and Android (set-top or mobile) viewing clients available at launch. iOS and Kodi/XBMC integration are also possibilities down the line with a graphic indicating smart TVs and gaming consoles might also act as end-points one day (via DLNA?). Sadly, it doesn't appear Silicon Dust will have any sort of transcoding from MPEG-2 as they've indicated no Roku channel given it doesn't support "video formats used for broadcast television" (and we should expect this to impact remote streaming bandwidth requirements, if supported). Continue Reading…
It's no secret that we are big fans of the Tablo TV system. Since the launch almost one year ago, Tablo has continually pushed the little placeshifting over-the-air DVR forward via software updates to bring functionality up to speed with most major competitors.One of the later enhancements has been thumbnail previews while FF/RW a recorded show. That alone seems to have pushed the Wife Acceptance Factor to 11 as it was one of her biggest complaints while trying to use Tablo!
Back in January at 2015 CES, Tablo announced a major overhaul to their Roku app, and also announced the addition of Fire TV and Nexus Player apps. Today, Tablo looks to make good on that promise by releasing these apps. For the past few days, I've been using the both the new Roku "preview" and the new Fire TV app. Visually, these apps are a major upgrade more akin to today's standard DVR interface. My current setup for Tablo is that the device is wired directly into my router.   From there, I am using a pair of Netgear 1200 Powerline adapters so my connections is wired straight to the Roku 3. For the Fire TV stick, it's currently running on my 5ghz band of my wireless router to minimize congestion.
Roku Preview
For the updated Roku preview app, Tablo had to completely rewrite the entire code base. This involved getting special privileges from Roku to break away from their standard app template. And although the old Tablo Roku app was fully functional, the number one feature was to have a more conventional UI that included a guide screen. With this "preview", Tablo has transformed the interface to provide this functionality. Continue Reading…
We've been quite enamored with Tablo, since our first product demo at CES 2014. In fact, our very own Adam Miarka is a highly satisfied customer of this effective bit of clever gadgetry that provides both over-the-air DVR and Slingbox capabilities. Beyond the existing 2- and 4-tuner models, CES 2015 heralds the Tablo Metro… which houses 25-mile range high def OTA antennas within the existing enclosure.
Two very small but incredibly powerful fractal antennas inside Tablo METRO capture OTA TV while intelligent switching technology enables the antennas to operate independently to capture signals originating from broadcast tower locations, even if they are located in opposing directions.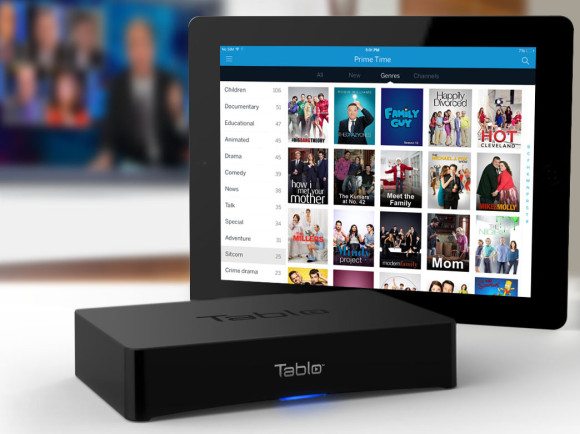 Here at ZNF, we're big fans of Tablo and find it to be the best post-Aereo solution for technologically savvy cord cutters (and their families). You can check out our complete review here but, in a nutshell, Tablo is both a headless over-the-air TiVo and Slingbox in one — beaming live and recorded television to a variety of endpoints (Roku, iPhone, etc) in the home … and beyond. So we jumped at the opportunity to partner with Tablo to give away a two-tuner unit. Continue Reading…
Although our initial impressions of the dual tuner Simple.TV was less than stellar, the company has been hard at work not only updating the little cord cutting, place shifting black box, but also launching new features. Recently, I had the chance to talk to Simple.TV CEO Mark Ely to discuss some of these changes.
First, from a software perspective, Simple.TV will be moving away from Silverlight as the default player outside of Safari on Mac. Currently, if you're using IE, Chrome, or Firefox on a Windows computer, you are required to install Silverlight for video playback of your shows or live TV. Chromebooks are not supported at the moment. A move away from Silverlight and to a more compliant HTML5 video player will allow Simple.TV to expand their device playback on Windows, but also for Chromebooks. Continue Reading…
While Microsoft has seemingly abandoned Windows Media Center, they're clearly not done with television.
First, the company has announced an Xbox One USB television tuner for European markets that will run about 30 bucks, when it launches this fall. Beyond basic OTA tuning and the requisite One Guide integration, Microsoft also kindly provides a 30 minute buffer to pause, rewind, and advance. Even better and just announced yesterday, the Xbox One will stream this television content to devices around the home:
Stream TV to SmartGlass – launching first in markets receiving the Xbox Digital TV Tuner, Xbox One owners will be able to stream their TV across their home network to their smartphones and tablets using the Xbox SmartGlass app. They can also pause, play and rewind as well as change channels, without interrupting gameplay on the Xbox One. This will work for SmartGlass apps on Windows, iOS, and Android.
So, no US support off the bat. However, Microsoft leaves the door open… Continue Reading…