Archives For Netflix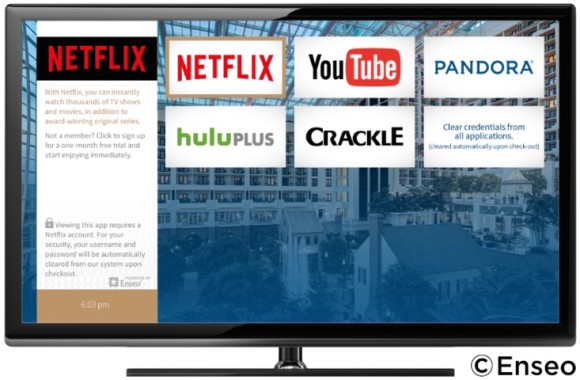 As promised back in January, Marriott has started deploying a suite of streaming applications to their Enseo set-tops and televisions… and Cord Cutters News has gone hands-on. Netflix, YouTube, Pandora, Hulu Plus and Crackle are available at select higher-end Marriot properties and it's believed the plan is to expand to more and more diverse properties. At the moment, there aren't any television-specific fees but you'll be required to use your own subscription with Netflix and Hulu Plus. Even should the lineups shift over time, this is a great option and sure beats trying to get a Roku or Amazon Fire TV Stick working in the hotel (via WiFi Marriott once blocked). Or sadly "watching TV" via phone or tablet in bed, as I have on too many occasions. Two more interesting tidbits: Marriott's Enseo TV remote has a dedicated Netflix button and supposedly the hotel will clear your credentials upon checkout.
At a press event earlier this week, Tom's Guide learned that Roku will be rolling out software updates beginning June 24th. And the key improvement appears to be support for a faster-loading Netflix channel. The firmware and Netflix updates are earmarked for the Roku 3 and Streaming Stick, with vague references to potential support of other models down the line. While we're obviously not opposed to a speed increase, I'd say the Roku 3 already provides the fastest Netflix STB experience and is my go-to streamer. For reference, my Roku 3 currently runs version 5.4 build 3340, with the demo-ed model sitting at 5.5 319 – we'll keep our ears to the ground regarding any additional changes.
In a pair of back to back public communiqués this week, Netflix has announced their intentions to expand both their geographic coverage and programming breadth. First, at a finance conference, CFO David Wells indicates the streaming service will "expand the content library meaningfully" via additional "four- and five-star" video — which has been Netflix's biggest knock and why I've been more reliant on the effectively free Amazon Instant Prime streaming in recent months. Beyond, content and as expected, Netflix will increase its European footprint to include Germany, France, Switzerland, Austria, Belgium and Luxembourg later this year.
Well that was quick. Netflix had informed investors that their streaming video service would be available via US cable operators "this quarter" … and, just a few days later, here we are with RCN, Grande, and Atlantic identified as the first partners to serve up Netflix via customer-leased TiVo hardware. At this stage of the game, as we'd presumed, Netflix subscriptions are managed independently by customers without the cableco's involvement. However, folks can subscribe to Netflix directly from the TiVo set-top and we wonder if the providers get a little kickback. Related, while Netflix has clearly resolved the content licensing issues that previously prevented this sort of deployment and beyond an Open Connect implementation, we'd sure love to know more about the nature of these relationships – if and how money changes hands. Sources tell us Netflix will appear on RCN TiVo hardware Monday, April 28th.
While investor calls generally bore us, Netflix dropped quite the bombshell this afternoon:
This quarter we will launch the first MVPD integrations in the U.S. As we did in Europe, we will start with U.S. MVPDs that use the TiVo set-top box and try to extend to non-TiVo devices after that. From an MVPD point-of-view, they would rather have consumers use Netflix through the MVPD box and remote control than have consumers become accustomed to watching video from a smart TV or Internet TV device remote control.
So many possible angles to explore here… RCN is arguably TiVo's most aggressive US partner, one that previously expressed interest in offering Netflix, and Suddenlink recently polled subscribers regarding the possibility of a Netflix addition. Then we've got the whole peering dealio with cable/broadband providers like Comcast to ponder. And, of course, finally is the elephant-in-the-room premise that Netflix had been a cable competitor (although many of us here subscribe to both). Yowza!
While I'd been aware that Netflix has populated their catalog with a variety of test clips, I didn't realize they display dynamic details on video resolution and bitrate. TUAW's identified "Example Short 23.976" as the one to seek out. And, as you can see above, I fired it up myself. In addition to enjoying a man moonwalk with laptop in hand, I've once again confirmed LTE is more reliable than free café Internet. Beyond the web browser, this hack also works within a variety of Netflix clients, including Apple TV and is something you may want to take for a spin when analyzing playback issues. (Thanks Rajiv!)