Archives For CableCARD
TiVo clearly had a choice to make. Deliver an unfinished product now or miss the all-important holiday shopping season. And, despite some compromises, they did what I would have done and released early. For example, only two of three TiVo Bolt models have made an appearance… without a Hulu app, currently being redesigned in HTML 5, and without out-of-home streaming. After all, how could they possibly launch the TiVo Bolt "Aereo" Edition without remote access capabilities (that are expected in 2016)? While I didn't anticipate them this fall, there's also no sign of a corresponding Series 6 "Pro" model nor a 4K-capable Mini. TiVo doesn't seem to have the numbers or efficiency to juggle it all.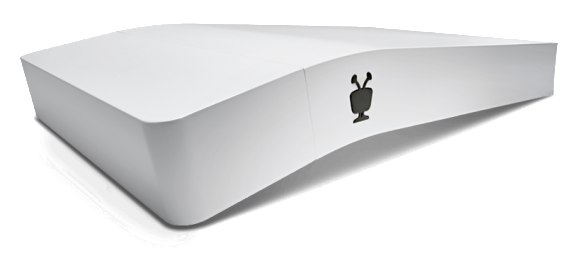 The first thing everyone will notice is the new design. It's fresh and funky. Many of you will hate it. On a more practical level, this smaller form factor means heat is more of a challenge and the Bolt maxes out with 4 tuners while transitioning to a 2.5″ drive. So existing Roamio Pro/Plus owners with 6-tuners and potentially more storage will have a real hard time justifying an upgrade. But, for those new to the fold, there's a lot to like from this OTA/Cable DVR. Continue Reading…
While much is gained in "going TiVo" most lose access to their cable providers large library of On Demand content. Despite the cableco often crippling transport controls in such a way that we're forced to view commercials, On Demand provides all sorts of good stuff we may not have known to DVR. Not to mention, many with children seem to swear by this catalog.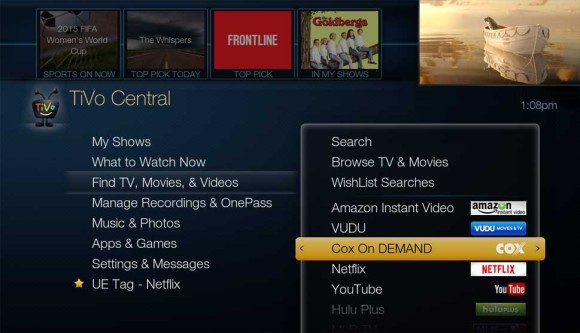 So it's pretty significant when a large cable provider strikes a deal with TiVo to bring On Demand to a retail-purchased DVR. Comcast led the way and now Cox has similarly implemented a back channel method of serving up video on demand … as we had foretold and to the tune of 18,000 titles. Initial Cox markets to receive On Demand via TiVo are located in southern California and Las Vegas, with all of Cox expected to be covered by the end of the year — a current list of cities and zip codes can be found here.
As TiVo Bolt nears release, the clues continue to trickle out. Most recent is an FCC filing that identifies three models. As two of those very same three DVR units appeared in a CableLabs certification report, it seems safe to speculate that we may be looking at two CableCARD models and one over-the-air "Aereo Edition" Bolt. By comparison, there are currently four Roamio SKUs… two of which don't actually "roam." Beyond standard DVR capabilities, might this TiVo shortcoming to be resolved with all Bolt models optionally streaming video to smartphones, tablets, and perhaps other end-points down the road?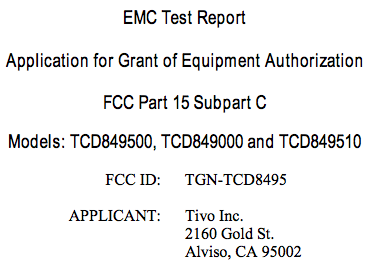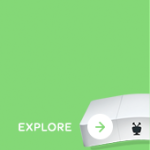 From the little we've seen thus far, TiVo appears to have done away with the traditional set-top box enclosure (as they did away with their in-house industrial design team). And not only may the Bolt be white and curved (?!), thanks to the FCC filing we also learn the Roamio replacement clocks in substantially smaller than existing hardware — to the tune of 40% less volume (according to one forum member's math).
As cable providers examine technological enhancements to reclaim and more effectively manage their finite network throughput, they've dabbled in both MPEG-4 encoding and Switched Digital Video. Whereas SDV manages tuning in a more efficient manner, modernizing from the MPEG-2 format results in fundamentally smaller video. And Comcast, the nation's largest cable operator, will imminently flip the switch to MPEG-4 in some Georgia and California markets.
For customers running newer cable boxes and DVRs, the transition should be seemless. However, folks on older hardware will need to swap boxes. Those with Comcast gear need merely walk into the store to receive new Xfinity equipment or even arrange it online. But for TiVo owners, the inherent risk in purchasing retail cable hardware manifests…
Series3/HD: IMMEDIATE ACTION REQUIRED! These DVRs will lose everything except local HD channels. All other HD cable channels will be incompatible.
TiVo has never disclosed model breakdown, but I'd guess 20-30% of their active DVRs are Series 3 and TiVo HD CableCARD variants. And, thus, if they had an easy fix to provide MPEG-4 compatibility to this generation of hardware they'd surely implement it. Especially given Comcast's expected nationwide transition, ramping up towards the end of this year. Further, at some point, we fully expect Verizon to follow suit with FiOS – who's also had a small number of MPEG-4 channels in the mix for a while. Continue Reading…
While I've been expecting refreshed over-the-air TiVo hardware, given a simplistic repurposing of base Roamio hardware for OTA and the Aereo acquisition, I hadn't anticipated anything imminent in digital cable… especially with the ongoing CableCARD and successor uncertainty. Heck, I'd even assumed the absurd TiVo Mega was dead. Yet, CableLabs just updated their self certification paperwork… with two new TiVo models.
Tivo 07/01/15 PNP SCV1113 Digital Only TCD849500 STB
Tivo 07/01/15 PNP SCV1114 Digital Only TCD849000 STB
Historically, we could determine TiVo hardware generation from the first half of the model number and capacity from the second half. I'm not so sure hard drive is still in play these days. Yet, all prior Roamio models begin with 84, so I'd guess these similarly denoted units must be closely related and still represent TiVo Series 5 hardware. As to what exactly they are, I haven't the foggiest.
These probably don't represent the TiVo Bolt, which sounds more like a service. But could they be Mega variants? Hopefully not, as I really hope that initiative is dead with engineering resources better detailed to mass market products. But I could still see TiVo moving upmarket in presentation, if not storage, and perhaps these represent 4k-capable Roamio units… and you can check out my previous Broadcom chipset speculation here. Lastly, one of TiVo's biggest retail challenges remains pricing — so whatever they're working on hopefully reduces the BOM, with savings passed on to customers. Continue Reading…
For years, we've proclaimed FiOS to be the best home for TIVo owners. And I've put my money where my mouth is in that regard. Yet, with newly introduced copy restrictions, this may no longer be the case. As first discovered on the MythTV mailing list, and coming to my attention via Twitter, Verizon now flags Fox's cable content with the CCI Byte as "Copy Once."
For TiVo and/or CableLabs, copy once allows us to DVR a show… but that recording cannot not be streamed beyond our home networks or downloaded to computer by TiVoToGo clients. Also, given the unfinished TiVo Online experience, it's quite likely these shows will similarly be out of reach for in-home browser-based streaming.