Amazon has unveiled two new Alexa-powered devices in the Amazon Tap speaker ($130) and the multifunction Echo Dot puck ($90). As with the original Amazon Echo, which I found compelling but unnecessary (at the time), both these units respond to voice comments – controlling an ever-growing list of products and services, such as Philips Hue lighting and native Spotify music streaming. However, whereas the Echo both listens and playbacks with a decent (if not stellar) speaker, the new devices are at once more limited and more versatile.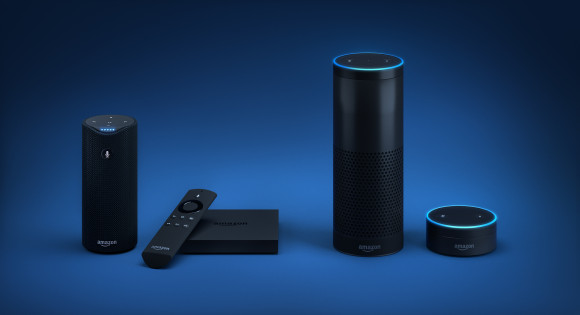 Amazon Tap (above left) is an attractive and portable Bluetooth/WiFi speaker that features a convenient charging dock. Yet, to engage the virtual "Alexa" assistant, one must physically "tap" the microphone button. Had they'd incorporated a mic into the cradle, I'd easily be down for two. But, as designed, I'd probably just opt for my smartphone and a waterproof UE Roll to meet my mobile speaker needs… at about half the price.
Fortunately, the new Echo Dot (above right) retains the sometimes creepy, but always-on voice recognition and is designed as something like a night stand accessory with basic speaker or to be attached to an existing Sonos, AVR, etc of presumably superior audio quality vs Echo. Sure, there's a certain amount of smartphone redundancy, but Amazon's ecosystem of partners far exceeds say Apple's HomeKit limited environment.